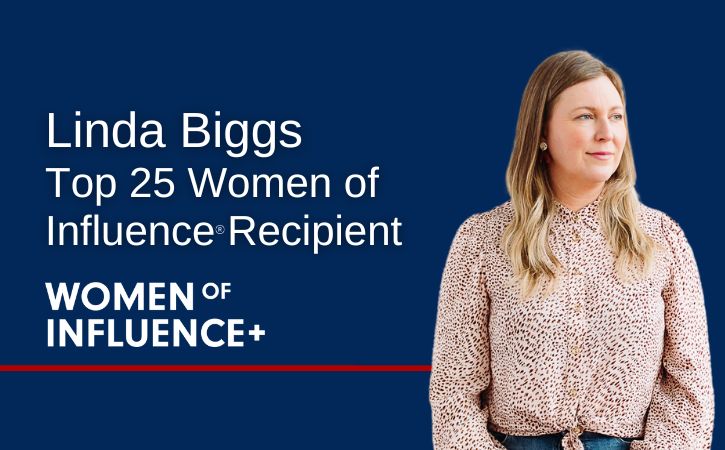 Founder Win: Linda Biggs, Co-Founder and CEO of joni, Inspires and Empowers as a Top 25 Woman of Influence
She never saw the nomination coming– which makes the award for 2023 Top 25 Women of Influence that much sweeter for joni Co-Founder and CEO Linda Biggs.
"It was one of our employees that I had also worked with before in another organization who nominated me, primarily for the work that we're doing at joni and our efforts to change the narrative around menstruation," Linda explains. "It's a huge honor. It's so inspiring to see the amazing diversity of businesses and the other 24 women who were nominated. The work they're doing showcases how social impact and economic prosperity can go hand in hand, how they don't have to be mutually exclusive, and there's so much power in that."
She continues, "I take that forward, knowing that what we're doing is resonating. We continue to share joni's story and raise awareness around menstrual equity and what's possible when we remove the stigma and shame normally associated with a natural bodily function."
Linda is focused on creating something good leaving the world better than she found it.
"I think back to my grandmother and mother, both immigrants from Mexico, who always told me that every generation is responsible for making it easier and better for the next. It's because of them that I have this opportunity and the privilege to be where I am now. With my two daughters who are 13 and 11, I can't separate my day-to-day work from the impact I want to have. joni allows me to make a difference every day."
Though it's now her current purpose, joni didn't always feel so inevitable.
"I started my career as a back-end web developer years ago" where she quickly realized the power of knowing tech but preferring the business strategy and people vs coding. "I moved into different consulting roles, working with companies like WestJet and KPMG, leveraging my technical skills to help non-tech teams build better processes and strategies to support business goals."
It was a good career with a promising growth track. Still, Linda, admits, "I grew tired of often being the only woman in the room, especially the more senior my role became."
Linda decided to pivot, focusing on partnering with female founders and helping them scale their businesses. After a couple of years, Linda decided to build something herself.
As fate would have it, it was around that time that Linda met her co-founder, Jayesh Vekariya, through a mutual friend. Then in University, Jayesh was finishing up his Master's in Entrepreneurship and ran into a statistic about period poverty in Canada. So he began researching how and why a wealthy country like Canada had period poverty issues.
As Linda tells it, "The more Jayesh described the systemic issues with the industry, the more the concept of a brand began to form in my head. I felt there was a missing gap in the industry. The period aisle consisted of conventional brands that had been around for years and a small category of very 'granola' organic products. I wondered why there wasn't a brand that combined the functionality of conventional products with the goodness of organic ones, resonating with modern consumers.
Moreover, we saw the opportunity to address systemic issues and be a voice for period equity through a 5% giveback model."
Together, they launched joni in March 2020, just before the World Health Organization declared a global pandemic. Linda shares, "We started as a direct-to-consumer brand, which, fortunately for us, worked well as people sought period care online due to the circumstances. Eventually, we expanded to three channels: direct-to-consumer with online subscriptions, retail partnerships across Canada, and a B2B channel focused on our joni dispensers.
"Our ecosystem of accessibility aims to increase access points and reduce barriers to sustainable period care. With our joni dispensers, we're brought into organizations looking to provide free period care to their teams – treating it as essential as providing toilet paper. In doing this, organizations not only create more equitable environments but also enable individuals to fully participate in life opportunities.
Our goal is to build a holistic solution to tackle these challenges."
Linda's vision, in her wildest dreams, is for joni organic period care to become as accessible as toilet paper. When you walk into the grocery store, use a public restroom, go to school or work – there are joni dispensers and products.
"We want the joni brand to be synonymous with accessible period care."
Linda continues, "There's an unapologetic nature to joni. When we created the brand, one of our values was being 'different on purpose.' We aimed to showcase what would be possible if the stigma around menstruation didn't exist."
How powerful.
With this as their north star, Linda and Jayesh are excited about their hard-earned momentum.
Not only did they win the Innovation Award from their local Chamber of Commerce for their dispenser, but their dispensers are being rolled out to municipalities, universities, and airports throughout Canada.
It's tough building something from the ground up, but for Linda, it's been worth it.
For anyone else considering the journey, Linda advises, "They need to ask themselves what is it that they really want. Do they want to look back and think, 'Oh, I regret not doing that, and I wish I had tried it?' Or do they want to look back and say, 'Hey, I took a chance, and this is what I've learned, regardless of how it turns out?'"
And what's more, Linda advocates for looking at failure differently.
"Instead of the way our culture talks about failure now, if we look at it as a data point, as a learning opportunity, maybe more people would be inclined to take a leap."
She continues, "And when it's tough, hang in there. You are not alone. There are literally days where I just do not know how we're going to make it another day, for whatever reason. And the next day I wake up and something changes the path. My co-founder and I have this ongoing joke where we say, 'Just a couple more months. Just a couple more months.' And that's been going on for three years now. Every day, it's just a couple more months."
With that one-month-at-a-time mentality, Linda acknowledges the importance of community.
"Most of the entrepreneurs and founders I know that are successful are able to really sit with themselves and be honest about their strengths and gaps, and then surround themselves with people who can fill those gaps for them. No one is an island as a founder. It takes a village to make startups a success in so many different ways. We would not be here if it wasn't for the belief of our investors, our community, our customers, our supporters."
Goodie Nation helps fill in those spots.
Linda says, "Being part of the Goodie Nation community means a lot to us. Not only with funding– which is massively important– but with mentorship and support too. There's a community where I can post something on the platform and get feedback and opinions and different lenses to help me make a good decision. Also, I can offer any support and unique perspective that I might have to help others. It's just this really incredible, supportive ecosystem that is really challenging the status quo and narrative when it comes to who is doing big things in this world."
Whether you're eager to join Linda in eliminating the stigma around menstruation or just want to use a sustainably-made period product, check out joni. You won't regret it.