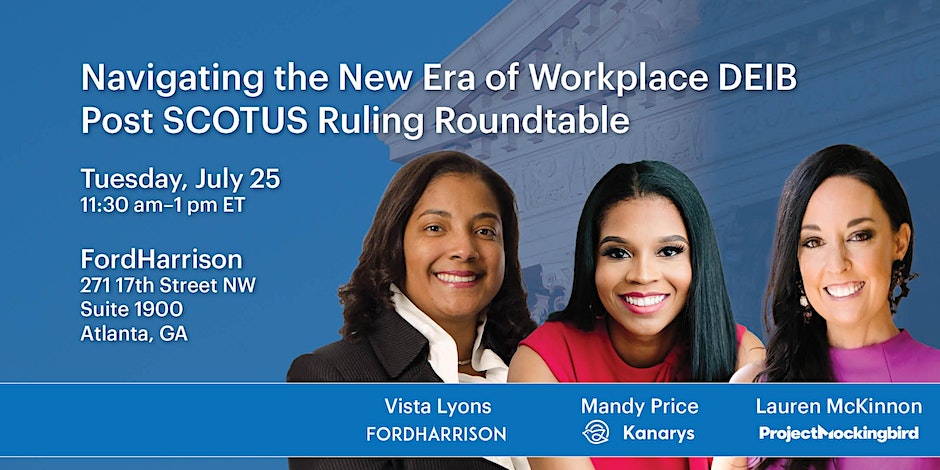 Founder Win: Following a Historic Series A Round, Kanarys Hosts a Roundtable Navigating the New Era of Workplace DEIB Post SCOTUS Ruling
Deep in the coal mines of the 19th century, miners would bring canaries with them as an early warning system for toxic gases. Any sign of distress from the canary and the miners took off for the surface. These small birds were the first line of defense against disaster, alerting miners to the presence of danger before it was too late.
Mandy Price, CEO and founder of Kanarys, is using the same concept to revolutionize diversity, equity, inclusion, and belonging (DEIB) in the workplace.
Kanarys, named after the small birds once used to detect danger in the coal mines, provides an early warning system for companies to detect DEIB issues before they become disasters. Kanarys is a leader in data-driven DEIB solutions, and its technology platform includes first-of-its-kind products such as the Equity Innovation Solution and Organizational Systems Assessment. By analyzing employee feedback and sentiment, Kanarys helps companies identify areas where they can improve DEIB, and provides them with the tools and resources they need to make meaningful changes.
It's meaningful and important work. It's hard, necessary work.
Still, Price never saw it coming. She said, "I started my career as a lawyer. I went to Harvard for law school, and I practiced private equity law for 12 years. I never thought I'd be an entrepreneur."
Price's passion for DEIB emerged during her undergraduate studies at The University of Texas at Austin, where she helped create a task force to improve race relations on campus. The task force's work eventually led to the creation of the Division of Diversity and Community Engagement, which appointed a chief diversity officer. This experience, along with Price's work at the Harvard Civil Rights Project during law school, laid the foundation for her future work in DEIB.
Price saw a gap in the way organizations approached DEIB. She says, "I knew that the way that a lot of organizations were approaching DEIB, though well-intentioned, weren't getting to the root cause to drive long-term systemic change."
Enter Kanarys.
"We help organizations create that framework from a data-driven strategy so that they understand exactly what they need to do to drive their DEIB initiative."
Kanarys was founded in 2018 with the belief that data could help solve DEIB issues. "We knew that if we could move the lens to be more data-driven, we could start to solve the DEIB issues and inequities that we saw." According to Price, Kanarys' vision is centered around providing organizations with the tools they need to create long-term systemic change around DEIB.
"We know that DEIB isn't something that's new and that some companies have been doing this work for more than 30 years," she explained. "But, even now, we talk with clients that are very mature in their DEIB journey, and they're still struggling to quantify and measure what has worked and where there may be opportunities still within the organization when it comes to a DEIB measurement standpoint."
"Make an impact." Kanarys takes those words to heart. They collaboratively work with organizations through data and actionable insights to incorporate DEIB into every area of their organization. "Today, industry leaders share our values in promoting a culture of belonging in the workplace. Together, we work to ensure that they reflect their communities and workplaces by creating more inclusive and equitable systems. A culture of belonging can only exist if there is a strong foundation of diversity, equity, inclusion, and belonging in place," Price stated.
In February, Kanarys raised their Series A raise round bringing their total funding to $10.5 million. What's just as exciting is that Price has become the first Black female founder in Texas to raise more than $10 million, a milestone significant for underrepresented founders in the tech industry.
And they have no plans of slowing down.
In their tenure, Kanarys has worked with Yum! Brands, Silicon Labs, Chuck E. Cheese, 7-Eleven, and a variety of industries such as retail, hospitality, and technology in addition to a number of Fortune 500 companies that are dedicated to advancing their DEIB strategy.
Kanarys has also partnered with national advocacy groups that have been championing DEIB for a long time. Mandy explained that they are "honored to be able to partner with organizations like Prospanica, Ascend, INROADS, National Association of African Americans in Human Resources, National Society of Black Engineers, and the Society for Marketing Professional Services to continue the work and research." As an example, Kanarys and Prospanica did a measurement of the organization'sHispanic and Latinx members, which was the first comprehensive report of its kind to truly focus on and track the experience of Hispanic and Latinx professionals in the workplace.
Price adds, "Because these organizations have been advocating for these issues for so long, it's incredibly meaningful for us to be able to use our skill sets and data to add a voice to the conversation and track such vitally important issues."
Price acknowledges that running a company is no easy feat. "There have been countless sleepless nights. It takes a lot of grit and tenacity to be a founder. There are many times when things seem hopeless, and I have to try to figure out how I'm going to, you know, not only as, Joey [Womack] says, 'Outwork yesterday,' but try to make lemonade out of lemons and simultaneously plant the lemon seeds to grow a tree. You're doing all of it."
Despite the challenges, Price believes that passion is key to staying committed. She emphasizes the importance of over-preparing and building a strong team. "I think the best thing to do is to surround yourself with the right people. I don't just mean the team around you for the day-to-day, though that's important. I mean, your board, your leadership, your emotional support, your friends, your network. A collective team to help you weather through all the storms."
As a startup founder, Price has benefited from the support of other founders and organizations like Goodie Nation. "Goodie Nation has been a tremendous partner to us. Not only in terms of support and connection with other founders and making meaningful connections there, but Goodie Nation has also really helped us from the business development standpoint, too," Mandy explained. Because of a connection from Goodie Nation, Kanarys partnered with Metro Atlanta Chamber on its inaugural DEIB assessment, which aimed to uncover how the metro Atlanta business community can collectively accelerate and advance racial equity.
For any founder trying to find their path, Price advises, "Don't lose sight of your vision and mission. You know, things can really feel impossible at times. If you keep your vision and your mission top of mind, you will reach a turning point. It's just important that you believe in yourself. People can see that passion."
For anyone looking to improve inclusion and equity in your workplace, look no further than Kanarys. You'll be better off for it.
Atlanta Roundtable Discussing SCOTUS Ruling on Tuesday, July 25
Kanarys is hosting a dynamic roundtable luncheon about the recent SCOTUS decision ending affirmative action policies in higher education where they'll discuss the domino effect on corporate diversity programs, recruiting and hiring practices, and supplier diversity across the public and private sectors. Join them to network and make connections as we face a new era in workplace DEIB. They'll also provide strategies for continuing DEIB initiatives while minimizing litigation risk.
Learn more and RSVP here.