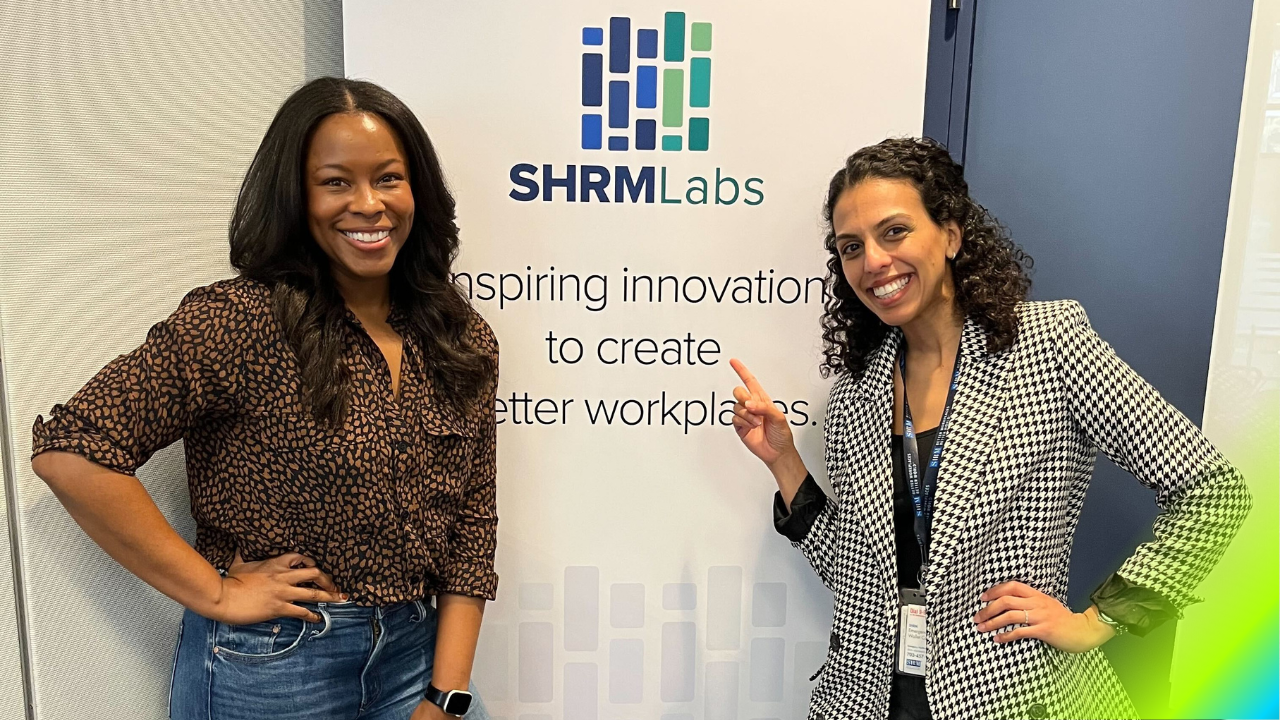 Founder Win: Onramp CEO Lateesha Thomas Selected for the SHRM Labs Workforce Tech Accelerator to Continue Building Bridges for Non-Traditional Tech Talent to Enter the Industry
Lateesha Thomas is the co-founder and CEO of Onramp, a workforce development platform that helps companies scale their technical hiring via apprenticeship programs. And recently they had a big-time win: acceptance into the SHRM Labs Workforce Tech Accelerator, a program focused on helping to scale the growth of startups focused on the workplace and future of work technologies.
"I started Onramp because I took a non-traditional path into the industry. Though, these days, what does non-traditional even mean?"
She's right. More than 62 percent of Americans ages 25 and up do not hold bachelor's degrees. The way things have always been done isn't the way things are being done now.
Lateesha didn't study computer science in college, choosing instead African American history and Political Theory. She also didn't finish her degree. But while she was in school she got a work-study job in the campus IT department that looks a lot like the apprenticeship programs Onramp now builds for companies like Amazon, Twitch, and Vanguard.
"They gave me practical on-the-job training in a field that I'd never thought to explore. I used that experience to land my first IT help desk role, doing basic hardware repairs and troubleshooting, and eventually moved into QA automation and applications support engineering."
Eventually, Lateesha found herself as an early employee of Dev Bootcamp (DBC), the pioneer of the coding bootcamp industry. As the Director of Strategic Partnerships and Business Development, she had several focuses, but chief among them was to help other organizations invest in workforce development. During her time at DBC, she built scholarship and apprenticeship programs with Facebook, Braintree, Adobe, and the Tech Hire Initiative with the Obama White House. And in doing all of this work, she realized there was a real need for programs like this. "In the 3.5 years I was at DBC, I saw incredible growth in the coding bootcamp industry, from a handful of schools in SF and NYC to hundreds of programs across the globe. Then post-bootcamp, finishing schools popped up with the primary goal of helping non-traditional candidates hack the hiring process of competitive Silicon Valley companies when the promise of post-bootcamp employment didn't materialize. But all of these programs were focused solely on candidates. Nothing existed to help employers understand this new talent pool, remove entrenched hiring obstacles, and create more transparent and supportive recruiting processes."
These experiences led Lateesha and her co-founder, Ian Inaba, to build Onramp. Now, almost five years in, business is good. To date, they've raised just over $3 million in venture funding and have some fantastic corporate partners– Amazon, Vanguard, Twitch, Realtor.com, Coinbase, and Sirius XM to name a few. Lateesha shares, "And we're really proud of that. It is phenomenal to have name brands come aboard and trust us with this work. We're proud of the impact that we're having."
And that impact can be felt by their candidates as well as the companies that Onramp serves. "It's important for us to hire apprentices that are reflective of the society at large, which to us means that diversity, equity, and inclusion inform everything that we do."
65% of Onramp's apprentices identify as women are non-binary, 44% identify as Black, Latinx, or Native/ Indigenous, and 12% identify as LGBTQIA. Apprentices who participate in their programs see a 3.5x increase in their income.
Still, it hasn't always been easy.
Lateesha shares, "For me, some of the challenges are obvious. As a Black woman founder, it can be difficult to be taken seriously. Shockingly, even from people who look like me. And that's just a reflection of our society. Navigating the implicit biases that people hold is an added challenge to the already difficult task of building a startup." She continues, "I'll talk about the work we do at Onramp and the assumption is that I'm running a nonprofit. And this isn't to say that there's something wrong with nonprofits, but if a white and male founder said that he's building a platform to recruit and train software engineers and data scientists, this would not be a question presented to them. There's a box that people want to put you into. Competence is not a default assumption."
She continues, "The only way I've found to combat this is to exceed expectations with the opportunities you've been given. When an investor, corporate partner, or strategic advisor takes that leap of faith you have to deliver. Every single time. There's no room not to."
It's hard. And, truly, a lesser person would quit. But not Lateesha.
Founding a company is not for the risk-averse. The odds of success are low, and that's just the nature of the game. But the upside of potential, at least for Lateesha, is too high to ignore. "This product needs to exist in the world and, as a founder, I want to both do important meaningful work for the community and build long-term financial security for myself and my family." She continues, "I grew up lower middle class. I do not have a safety net. I do not have a family who if I am unemployed for any amount of time can swoop in and pay my bills– which is sometimes the case for founders who don't look like me. There are things I want to build for myself in my life. Onramp is one of them. I'm committed to this product and seeing it exist."
When asked about the kind of advice she'd offer to founders in positions similar to hers, she offers, "When I got into this, I didn't realize the extreme whiplash we'd be experiencing every six to twelve months. Startups are tumultuous. It's really important to adopt a zen-like mentality. Don't get too attached to the highs or the lows. And I struggle with that. Sometimes I have to dig myself out of the trenches. I've been told therapy is good for that, and one day I'll take my own advice and see a therapist regularly."
She continues, "Being a founder can be mentally and emotionally exhausting, so seeking out communities with people who are on a similar journey to you is important. Goodie Nation has been that for me. It's also key to find allies in the work who can vouch for you when you're not present. Joey Womack, the founder of Goodie Nation, has also been an incredible promoter for Onramp, helping us to connect with investors and speaking opportunities to build awareness for our brand.
Lateesha has built an organization that has helped a significant number of candidates land their first role in tech and achieve significant career and economic mobility. She hopes to scale that impact as Onramp continues to grow.