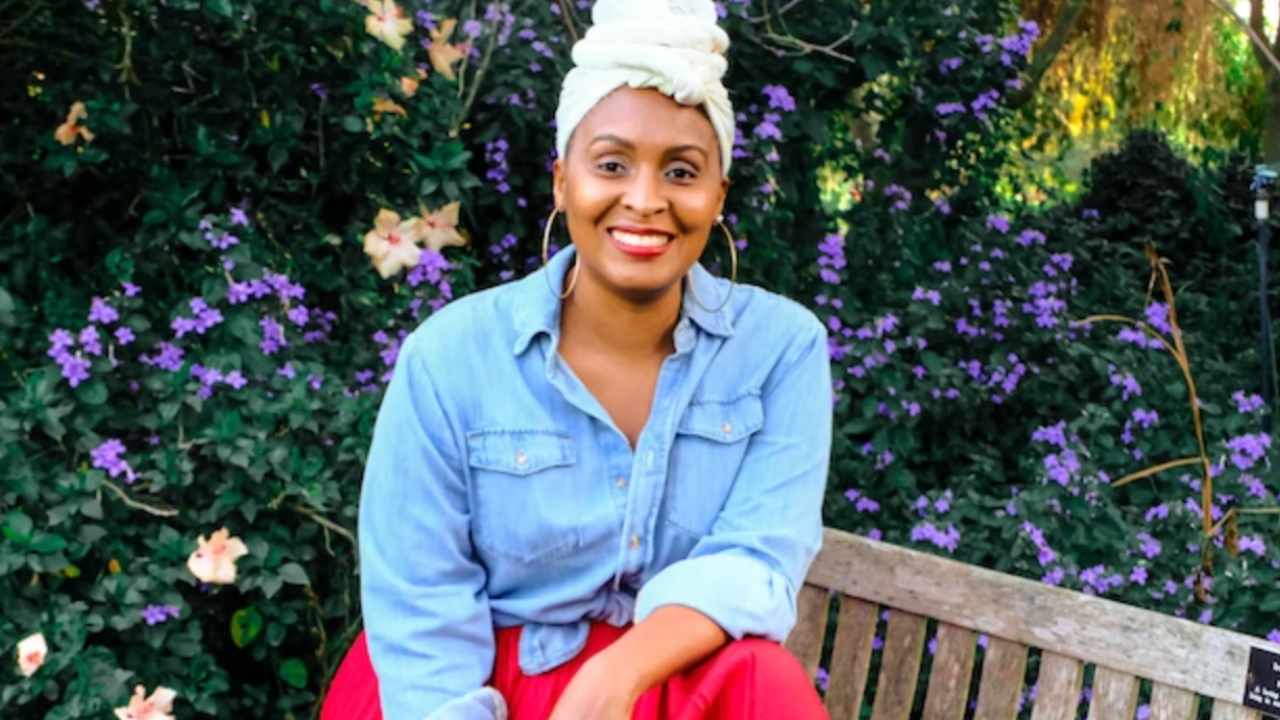 Founder Win: Talia Boone of Postal Petals Featured by the US Chamber
Talia Boone, recently featured by the US Chamber, is excited to introduce you to the power of floral healing.
In fact, it's the very reason she founded Postal Petals.
"We are an immersive floral and self-care company that uses fresh-cut flowers as a tool for mindfulness and self-care," Boone explains.
The concept didn't always seem so obvious, though. "If you would have told me three years ago that I was going to have a flower company, I wouldn't have believed you."
Boone continues, "My background is in public relations, marketing, and brand strategy partnerships. I started off working in the NFL and then left to work for specific player companies, where we would do brand strategy, and partnerships, and then I ventured out on my own maybe about 10 years ago. I've learned a lot and been an entrepreneur for quite some time."
Boone's first company focused on marketing, communication, brand strategy, partnerships, and event production, but it soon evolved into a tactical solutions agency called INTER:SECT.
At INTER:SECT, she mobilizes and deploys corporate and consumer resources, and financial resources, pairing them with the social equity of sports and entertainment assets for measurable, tangible social impact.
She explains, "The work that we do with INTER:SECT is right at the intersection of sports and entertainment, corporate and consumer brands, and social impact. We focus on any number of human and civil rights issues, such as GOTV initiatives, rights suppression, human rights, issues around LGBTQ+ rights, criminal justice reform, economic development, economic empowerment, and immigration issues."
"That's the work that I consider to be my life's work because it touches on so many things that are really important to me. It's all about building up and making a better life for the members of my community."
While her work with INTER:SECT is a huge part of her life's purpose, Boone's unexpected journey to founding Postal Petals is just as remarkable.
She was introduced to flower arranging by a friend several years ago and found it to be a powerful form of stress relief and creativity. She shares, "Flower arranging became my de facto form of self-care, stress relief, and anxiety relief."
During the early days of the pandemic, Boone's therapist suggested that she use flower arranging to help her manage her uncertainty and anxiety. However, the LA flower market was closed, and Boone couldn't find a company that shipped fresh-cut flowers that she could arrange herself.
Boone says, "There was not a product in the market that fit what I was looking for– where I was being sent bundles of fresh-cut flowers that I am then responsible for breaking apart, prepping, and arranging on my own."
Boone eventually stumbled upon a wholesale flower distributor who shipped large volumes of flowers and convinced him to reduce his minimums to ship her just enough flowers to arrange at home.
A quick ask turned into a nearly three-hour conversation. And by the end of that call, Boone had realized two things:
There was a gap in the marketplace. There was room for an immersive flower experience for people to create their own arrangements and use them as a form of creative expression and self-care.
The pandemic had changed the floral industry. It had served as an equalizer. Before, flower farms weren't really working with independent florists. They were partnering with large retailers. But because there were no weddings, no events, and no need for massive floral productions, the world opened up. They were looking for new ways to bring their product to market.
As she enters her third year in business, Boone reflects on the lessons she's learned and the progress she's made. "The way I look at the first year of business for us is that we were really proofing the concept of something brand new," she says. "When you do things like that, there's a lot of learning that has to take place. There's a lot of shift in behaviors."
During that first year, Postal Petals focused on proving the concept of their interactive wellness experience with flowers. Boone and her team had to ensure that their supply chain was solid and that there was a market for their product. They also had to listen to customer feedback and adjust their approach accordingly. "All of those things ultimately led us to our B2B strategy," Boone says.
In their second year, Postal Petals built on what they learned and established a strong foundation for growth. They obtained their trademarks and certifications as a women-owned, minority-owned, and women-owned small business, which would allow them to expand their corporate client list and command larger contracts. "Going into our third year, a lot of what we're doing is really starting to harvest the fruits of the labor that we've done over the last two years," Boone says.
This year, Postal Petals is focusing on finalizing corporate agreements and automating the consumer side of the business while building up the corporate side. "It's been nonstop and a constant kind of learning in a really, really important way," Boone notes. "Business has been consistent. We've grown year over year, but I expect that this year and beyond we're going to see quite a bit more significant growth from the work that we've been doing over the last couple of years."
Boone sees flowers as more than just a pretty decoration or a romantic gesture. She sees them as a tool for mindfulness, self-care, and creative expression. By shifting people's perception of flowers from a luxury item to a self-care necessity, she hopes to promote a more holistic approach to wellness.
"And what I hope is that people will now begin to look at flowers as a tool for mindfulness as a tool for self-care as a tool for creative expression so that when they need to relieve stress or deal with the anxiety that they natively think about flowers as a tool to do that," Boone explains.
Postal Petals not only delivers flowers to paying customers but also hosts free community wellness events and partners with social institutions to promote floral healing. Boone believes that by building a curriculum that encourages attainable forms of self-care and mindfulness using flowers can make a lasting impact on the well-being of communities.
"We're starting to develop quite a few partnerships with mental health practitioners and we have a goal to get our flowers and our workshops subsidized by health insurance providers. We intend to get certified in the categories of emotional wellness, social wellness, and environmental wellness; environmental, in this case, meaning beautification of space, by health insurance providers so that when people get our flowers, they can have it subsidized as a preventative care measure for mental health support," Boone shares.
But Boone's vision for the future of Postal Petals goes beyond just floral delivery and wellness events. She envisions a tech companion product that will transform the way people experience floral design, meditation, and creativity.
"We are building a tech companion product that will look very similar to what you see with Peloton and their robust content library of live and on-demand content. You know, obviously, Peloton has it around exercising and bikes but we were looking to build something similar but around floral design, meditation, and creativity," Boone shared.
Boone sees Postal Petals evolving into a juggernaut of creativity for wellness and self-care and says in 10 years, she hopes to not even recognize the company for all its growth and transformation. She likened it to something much like how Netflix evolved from a DVD rental service to a streaming platform with original content.
"That's really what I hope to see with Postal Petals. I want to see an evolution so strong and so significant that we are almost unrecognizable because we've kind of blanketed the space and evolved this industry in such a way that people don't even remember the time when we were just shipping boxes of flowers. That they see it now like Postal Petals is everywhere in the zeitgeist of creativity for wellness and self-care," Boone explains.
As an example, Boone is exploring how to replicate and enhance the Postal Petals experience in the Metaverse. She says, "I see that people are going to be able to exist very fully in the metaverse…and I feel like…there's a way to…enhance the IRL experience…in a way that really resonates with people."
Despite not having a background in floristry or agriculture, Boone thrives on the learning process that comes with building a company from scratch. She acknowledges the challenges of starting a business in a field that she is not familiar with. However, she is determined to overcome these challenges and is enjoying the learning process.
Boone believes in the power of collaboration and partnerships, a value that she says is central to her business. She says, "I live by the tenets of that African proverb that says, 'If you want to go fast, go alone, if you want to go far, go together.'"
She looks for opportunities to collaborate with other business owners, floral artists, and other individuals in her field. She believes that working together and creating opportunities for others is essential for growth and success. She believes that the more she puts out, the more she receives in return. This approach has been crucial to her success, not only with Postal Petals but with every venture in her life.
Moreover, Boone recognizes that access to mental health support is a human rights issue and wants to address it through Postal Petals. "For us to be intentional about looking for ways to partner with these social institutions and take this floral healing message…into spaces where people would not normally get it…we could help so many people in ways that they may have never expected."
She believes that floral healing can be a non-threatening and exciting way to introduce mental health support to individuals who may have never experienced it before.
Boone expressed gratitude for the growth of her company, saying, "The biggest win is the fact that this company is moving and that the company's growing…the fact that we got our first customers, our first corporate clients, all of these things…we have experienced win after win after win." She acknowledged that there have been setbacks, but the numerous positive experiences have made the setbacks less impactful.
One major partnership that has propelled Postal Petals forward is with MasterCard. Boone noted that the partnership started with a grant and evolved into a significant relationship. She says, "The agency running the grant on behalf of MasterCard has become such a significant partner for us." She shared how MasterCard supported and uplifted black women business owners through their superheroes campaign, and Postal Petals was fortunate enough to be a part of it. Boone also mentioned their collaboration with the Jennifer Hudson show, JP Morgan Chase, and Goodie Nation.
"The Goodie Nation network has truly showed up for me. In one week, they helped me accomplish nearly a year's worth of productivity goals. We were struggling with marketing, and they made a connection. We needed to focus on our growth strategy, and they made an introduction. We needed support with fulfilling gifting orders, and Joey [Womack] referred me to two gifting companies in the network," Boone shares.
And, right now?
The future looks very bright indeed.
Boone is confident that Postal Petals will continue to thrive, thanks to their commitment to evolving people's relationship with flowers and their ability to adapt and learn along the way. "It's been a constant evolution of figuring out what works and what doesn't," she says. "But at the end of the day, we're really excited about where we're headed."
Boone believed– and still believes– that flowers aren't just a ready-to-use product. And she was convinced that this is the right time to change people's traditional relationship with flowers.
But don't just take my word for it. Or Boone's.
Head over to Postal Petals and experience the power of floral wellness for yourself.