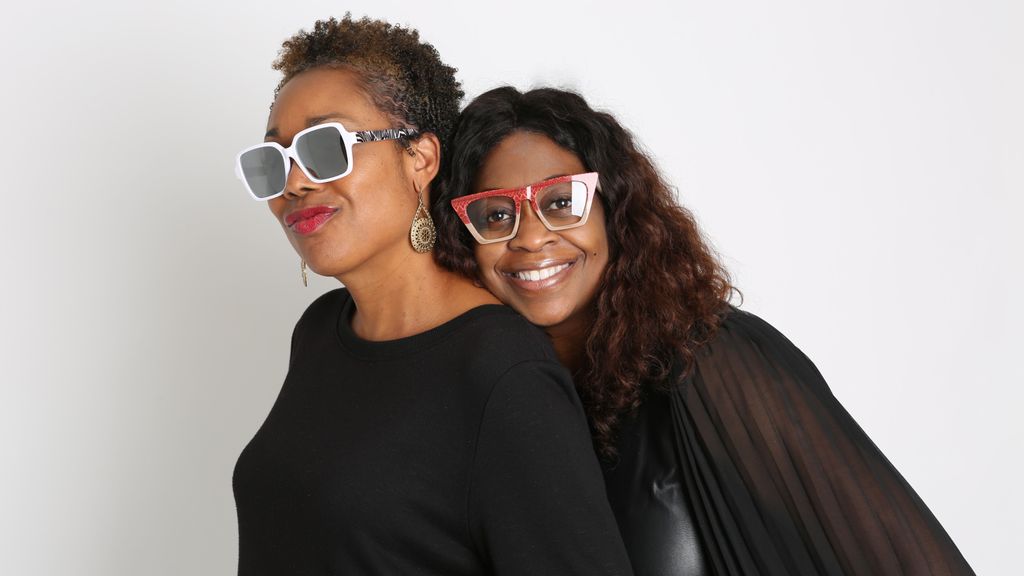 Founder Win: Tracy Green and Nancey Flowers-Harris, Co-Founders of Vontélle Eyewear, Are On A Rocketship
The last two months have been like a rocket ship for Vontelle Eyewear. In late February, they appeared on the Kelly Clarkson show, and recently they landed a massive, exclusive three-year licensing deal with Paramount to create kid-friendly frames featuring Nickelodeon's most popular characters. But these opportunities were the culmination of years of work.
It all started when Tracy Green lost her glasses.
She called up long-time friend and former Morgan State University classmate, Nancey Harris, to vent. The glasses were new, they were gone, and they were going to be expensive to replace. As it was– and it seems as fate would have it– Nancey had lost her glasses recently, too. Needless to say, they were frustrated.
Not only at the cost but at the fact that there weren't any options out there they were thrilled about buying. They wanted more colors and patterns. They wanted their glasses to show something about who they are– about their personality and fashion sense. They wanted the glasses to fit them– really fit them.
They wanted to buy from people, not identifiable brands. They wanted glasses that were better shaped and more comfortable. They wanted to shop from a BIPOC-owned company. This was back in 2019, and turns out, nothing that checked all those boxes existed. So what did Tracy and Nancey do?
They created Vontélle Eyewear.
And as Tracy, co-founder and CEO, and Nancey, co-founder and COO, say, "There's no turning back now." From 2019 to now, it's been a journey. And there have been pivots, changes, and shifts. Still, they wouldn't change a single thing about it. They're operating with vision, heart, and eventually, hoping to create, as Nancey says, "a legacy brand that lives beyond us." The success they've experienced in the past couple of weeks didn't happen overnight. And it didn't happen without a lot of hard work.
Back in 2019, when they went to France for one of the largest eyewear exhibitions in the world, they were excited. As Nancey tells it, "There are over 30,000 people that attend this event. We walked in, and we were so excited. But as soon as we get in there, we immediately realize there's no one in there that looks remotely like either one of us. And the few people of color we did see were optometrists. They were there to buy glasses, not make them."
She continues, "That was our a-ha moment. That is why glasses don't fit us properly. That is why we weren't seeing beautiful colors and patterns and textiles. Tracy and I said we wanted to do it. We were going to make the industry better by combining fashion and fit. We were going to make glasses that are comfortable and stylish– not one or the other."
Tracy adds, "My mom and I both have glasses. We need them. And we'd always get these lines across our noses and indentations on our cheeks. We'd get headaches because the frames weren't long enough at the temples. As Nancey and I were talking to friends and family, everyone was saying the same thing: their glasses hurt."
Nancey and Tracy started doing research, and they had many conversations about what their glasses project would be. Back then, Vontélle was a side hustle, something they attended to on weekends and late weeknights.
And then COVID happened, and as everyone remembers, the world turned upside down.
During those initial months, Nancey's company downsized, so was able to make Vontélle a full-time opportunity. Tracy was working as CFO in a hospital. Already armed with a rare form of diabetes, Tracy didn't want to further risk her health, and put in her notice. At a rare moment in time, they both were able to embrace Vontélle with all the vigor, attention, and focus they could muster.
As a result of that, Tracy says, "We were able to launch a website, get Saks Fifth Avenue and Nickelodeon, and create lines for a celebrity or two. Things really started to happen. And when given the option to go back to the hospital or run this business. I wanted to run Vontélle with Nancey. It was working. It's still working."
It's not that they've just hit their stride– though they do admittedly have a lot of hard-earned momentum– it's that lens-wearers are finally recognizing the value and beauty in what they have to offer.
They have no plans of slowing down. Nancey says, "Tracy and I talk about this being global. That's the goal: to provide great-fitting glasses for people all around the world. We want to be a brand everybody is familiar with for one reason or another. They can like us because of our style. They can like us because of our fit. They can like us because of the combination of those things. Our glasses say something about the person who wears them. We want them to be bold, brave, and beautiful. We are a multi-ethnic brand. We're not just trying to fit one mold."
She continues, "We also want to be known as a brand that gives back. We do that on a local level with WIN (women in need), but being able to do that in countries that don't have the supplies they need for proper eyewear."
Tracy adds, "I wear glasses as a medical necessity. I've needed them since I was a teenager. I can't do anything without my glasses. Right now, we do give glasses to homeless shelters and to women and children who need them, and we would love to expand that same practice to all US shelters. In those situations, no matter what brought you there, the first thing you lose is your glasses, right? And then you're trying to get back on your feet, but it's hard. We would love to continue to give the gift of sight to everyone because that's what people need."
She continues, "I do think the company is limitless. When we launched our website in October 2020, our goal was to break the internet. Now, we certainly didn't do that. But a lot of good things have happened. Nancey and I were talking about this last night. Whatever we're doing, we need to bottle it up. We were on MSNBC. We've been in Forbes, Black Enterprise, and Essence. I mean, we've been in a lot of amazing magazines and features and programs. And it's great. But we're still over here trying to figure out how to scale the business. That's part of what it means to be a founder."
As founders, they've learned the power of the pivot. They may start the day with one idea and end it with something entirely different. Initially, they wanted to break the internet, but now they want to create a legacy that endures. They thought they were going to sell directly to consumers via e-commerce, and now, they're finding different avenues. They learned people tend to buy glasses on Amazon and through their optometrists, and now there are potential partnership opportunities there. "It's all about the process," Tracy says.
Nancey adds, "[As a founder,] you have to be fluid. Our backgrounds empowered us to be fluid and agile. We have the key ingredients. Tracy comes from a background in finance and analytics. I have experience in sales and marketing. Together, we know what we have to do to succeed."
It doesn't mean it's easy, though. All those pivots can wear a founder down– which is why they celebrate every single win. The name-brand wins are huge, but they also really love the e-mails and photos from their consumers. "On our social media, we post real people. We do have models, but we love seeing people in their lives loving our glasses. To me, those are the biggest wins," Tracy says.
Through the rise of Vontélle, Nancey and Tracy are glad to have Goodie Nation in their corner. Nancey says, "Goodie Nation is the gift that keeps on giving. Between the networking and the resources, there's so much good information. There was a grant mentioned in the Slack channel, and we applied for it and won."
Her co-founder adds, "We don't know what we don't know. Goodie Nation helps with that. If we say we need marketing help, they point us in the right direction. If we need help with something else, they give us support, and something else after that, they help there, too. It's also nice to have a community of other founders. We can learn from them. We can share what we know, too. It's a cohort of fabulous people. Goodie Nation is the shortcut. Otherwise, we'd have to go the long way. And now, we can get to where we want faster and better."
For Tracy and Nancey, there's no going back. Vontélle is it.
And as a glasses-wearer myself, I'm glad to hear it. Their frames are fresh and warm, personal and bold. Remember their name. Vontélle is sure to be around for the long haul.