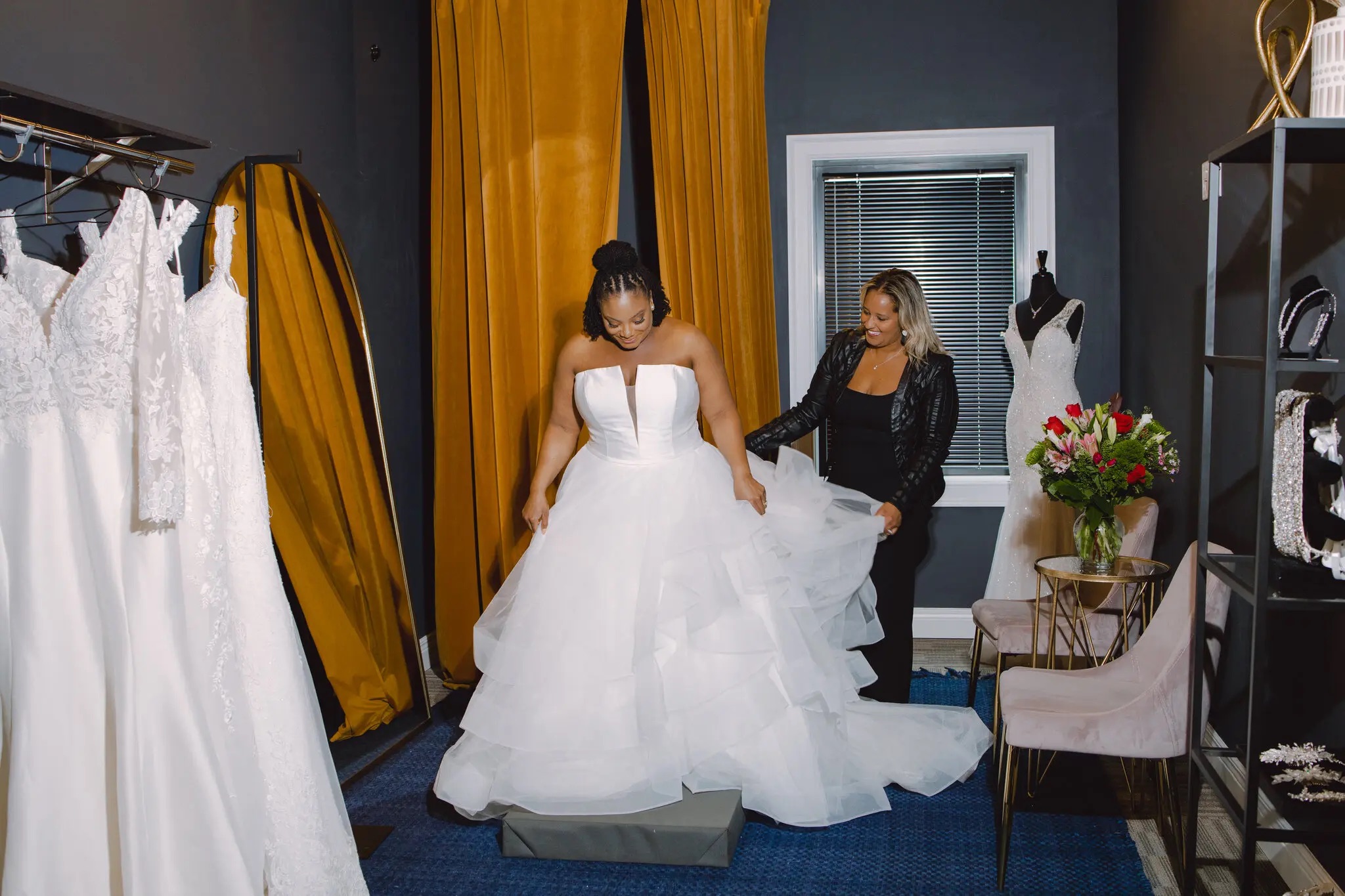 Goodie Impact Story: Lundyn Carter of Laine London Develops Meaningful Relationships with Female Founders
This is the story of how Lundyn Carter found her community within Goodie Nation as a first-time founder and continues to elevate her business with the resources she finds within the Goodie Nation community.
Lundyn Carter (Google For Startups, It Takes a Village) is the founder of Laine London, a first-of-its-kind, woman-owned rental bridal shop disrupting a $3.5 Billion bridal rental industry. Lundyn's ultimate goal is to create a complete mind and culture shift around what it looks like to get married.
But that wasn't always the goal. Lundyn never set out to be in the wedding industry or be a founder. She says, "When I thought about being an entrepreneur, I just thought of [people] like Mark Zuckerberg or a 'bro' coding in his mom's basement. I never saw anyone that looked like me and it really wasn't until later on that I started to see women running startups and building their own companies. So, I was really on that straight path to corporate, but then I went to grad school and took some entrepreneurship courses and I just kind of fell in love with not just building a business but disrupting an industry."
With Laine London, we're saving people money and shortening this financial gap, by making bridal wear more affordable. This has just been so intriguing to me, and that's kind of what started my passion [to build Laine London]. We found product market fit right away, got really plugged in with Goodie Nation and Google for Startups, built a really great community in Atlanta, and the rest is history."
Despite not wanting to be a founder, Lundyn has settled into her path. She's snagged features in the New York Times and Good Morning America, has hosted pop-up shops in New York and DC, and plans to establish a new permanent location in Charlotte in the near future. She doesn't discount the level of support she's needed to get to this point, either, and admits that Goodie Nation has been a much-needed support system on her journey. "What I've gotten out of Goodie Nation is the ability to understand what the journey actually looks like as a founder."
Lundyn considers herself an introvert with an extrovert personality when she needs to be. She says the pandemic exacerbated this personality for her but also made her laser-focused on the importance of managing her time as a founder and forming meaningful relationships.
After three years of being in the Goodie Nation community, she still finds the time to make sure she's keeping the relationships she's formed within the community alive. "My Goodie Nation huddle group still meets every Monday, and they've become like brothers and sisters. We've [been able to] watch each other grow on our journeys."
Lundyn also attributes her longevity in Goodie Nation to the monthly, "All Founders Need Therapy" sessions. One recent session in particular, "All Founders Need Therapy: Women's Edition," led to an unlikely surprise.
"As a founder, there are a million and one things on your plate: always a decision that needs to be made, and you are constantly being pulled in every direction. On this particular day, my intuition told me to put it all aside and join this call. What came out of this meeting of phenomenal, strong female founders, was an appreciation for where each of us is in our journeys.
I also connected with Colette Johnson and we were able to [meet in person] on everything from our companies (and potentially collaborating) to her wedding planning journey!
Moral of the story: Keep space in your life for the unexpected."
Despite having endless resources, events, and accountability partners, Lundyn says that being a Goodie Nation Founder is bigger than just trying to take advantage of every single resource. She insists that being a Goodie Nation Founder is more about prioritizing your time and really being thoughtful about the groups that you are connecting with.
Lundyn says, "You can give and take what you need and replenish [the Goodie Nation community] when you need to, just like a well." From their efforts, Goodie Nation Founders might find a mentor, business partner, acquaintance, or be that for someone else, just like Lundyn has.
You can connect with Lundyn Carter via LinkedIn. You can also support her mission to disrupt the wedding industry and make bridal wear more affordable at https://www.lainelondon.com/.