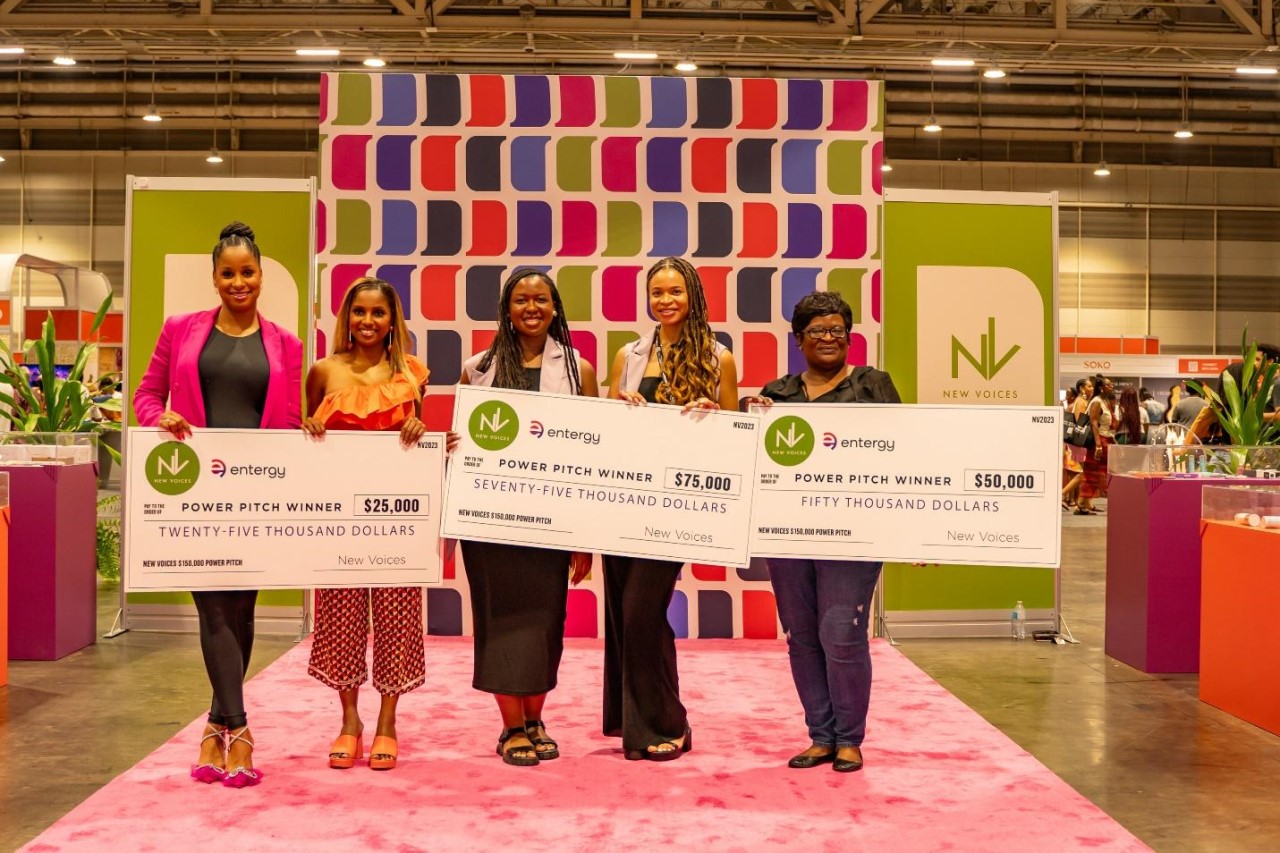 Goodie Impact Story: Our Process Helped Swella Beauty Win $75,000 in the New Voices POWER PITCH During Essence Festival
At the Essence Festival of Culture in 2023, three black women were welcomed into a new cohort of visionary entrepreneurs through the New Voices $150,000 POWER Pitch sponsored by the Entergy Charitable Foundation. While the competition was fierce, Brooke Hill, Co-Founder & CEO of Swella Beauty, a luxury braiding experience that sources quality braiders in an efficient way, secured the top prize of $75,000.
As a founder within the Goodie Nation community and a recipient of the Lenovo Evolve Small grant, Brooke meets every Monday morning with other brick-and-mortar startup founders in a "huddle" to share progress, upcoming priorities, and ask for help. It was in one of these weekly "huddles" that Brooke shared with Joey Womack, Founder of Goodie Nation and Lead for the huddle, that she was preparing to raise capital as well as for the pitch competition and wanted feedback. From there, Joey introduced her to our Investor Relations Manager, Alexis Dulan.
Goodie Nation ensures that the founders in the community are investor ready through personalized prep where founders are measured on several aspects in the due diligence process. Brooke received invaluable support from Alexis as she guided her through the process of building her pitch deck and offered personalized and strategic insights to enhance the presentation's effectiveness for investors.
After reviewing the initial deck, Alexis recognized Brooke's strengths and opportunities for improvement and offered recommendations that resulted in a tailored pitch that highlighted the startup's story, key differentiators, and impact at the pitch competition.
Powerful collaborations like these are important because diverse founders tend to lack opportunities to get honest feedback from potential investors. "The readiness scores were extremely helpful, in comparison to other accelerators, because it helped me determine if I am truly communicating what I need to. These structures help founders effectively communicate gaps, articulate revenue potential and the many ways the world can be better by supporting diverse founders, who often have their 'Why' tied to growth for marginalized groups."
Fostering a supportive ecosystem that nurtures and uplifts founders is an integral part of enabling them to have a community of people who want to see them win. At Goodie Nation, we aim to help all of our founders' visions become a reality. Part of doing that is successfully attracting the right investors, coaches, partners, and community members who also want to see our founders win.