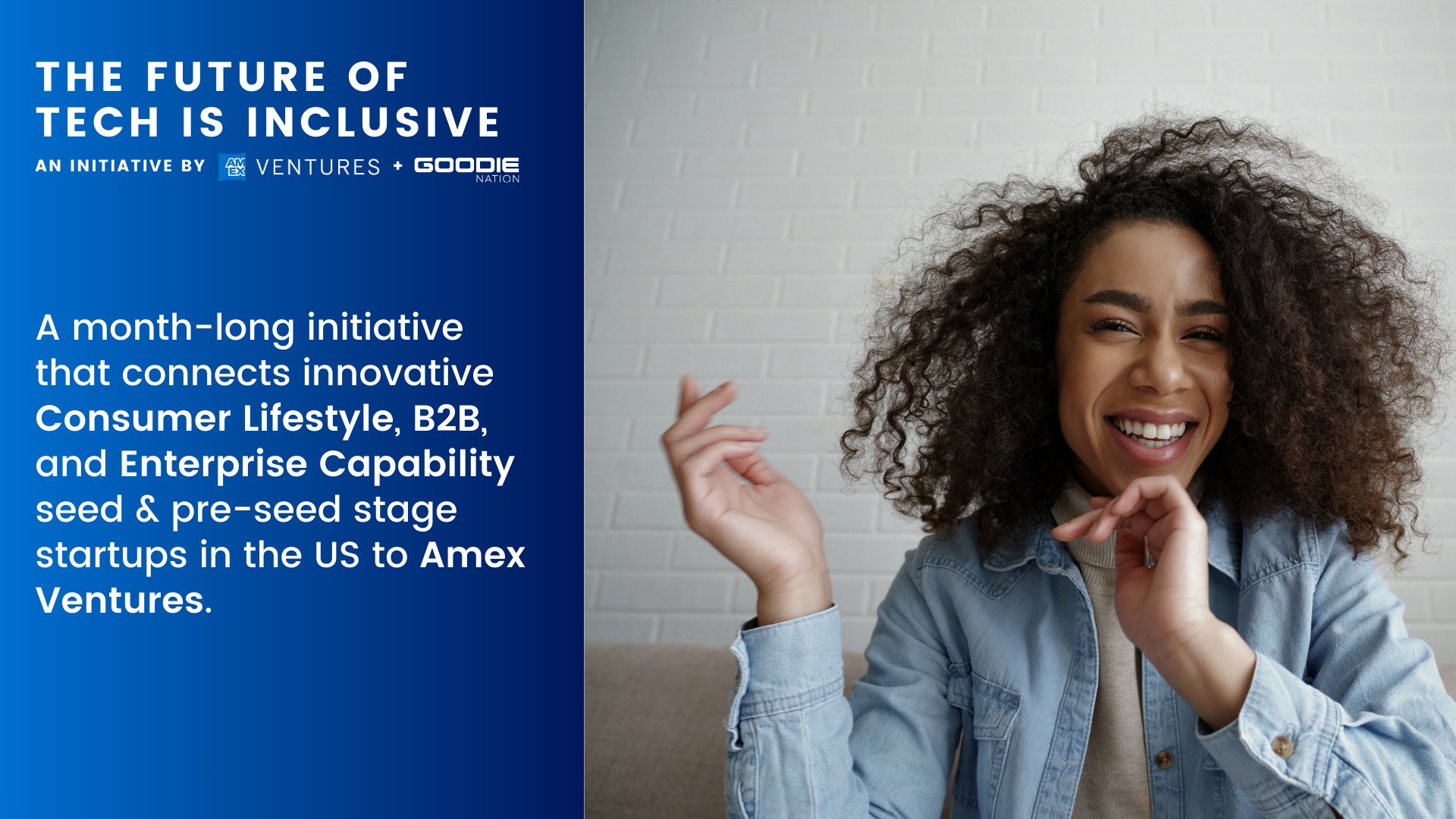 Introducing the Future of Tech is Inclusive: Goodie Nation and Amex Ventures Join Forces
We are thrilled to announce Goodie Nation is joining forces with Amex Ventures to launch the "Future of Tech is Inclusive" program. This collaboration will create valuable relationships between innovative US-based seed and pre-seed stage startups and Amex Ventures. It will take place in February 2024.
The Power of Partnership
At Goodie Nation, our mission has always been to create pathways for people who experience the Relationship Gap to thrive in the innovation economy. We believe in the power of inclusive entrepreneurship and technology as a force for positive change. Amex Ventures supports this vision and brings experience and resources to the table. Through this partnership, we aim to leverage the expertise and reach of Amex Ventures & American Express to amplify our efforts in driving inclusivity.
"At Amex Ventures we seek to discover the best and brightest innovators regardless of background. By partnering with Goodie Nation, we can connect with tech founders who have great potential and support them for a month by offering knowledge and resources." – Ope Runsewe, Managing Director, Amex Ventures
What to Expect
The "Future of Tech is Inclusive" program will feature a range of activities designed to make a lasting impact. These include:
Corporate Investing & Partnership Workshop: Founders will gain tips and best practices on how to best partner with a large organization from Amex colleagues.
Industry Roundtable: Amex Ventures team members will discuss the latest news, trends, and opportunities across Consumer Lifestyle, B2B, and Enterprise and founders will share what they're seeing as well.
Mentorship and Training: American Express subject-matter experts will provide insights on how to drive growth and solve challenges around key functional areas of the startups' business.
Dedicated Help & Founder Community: Startups are paired with a Goodie Nation business coach, attend weekly standups with other founders, participate in 1:1 coaching, and get connected to the larger Goodie Nation community.
Group Therapy For Founders: Founders are people too. That's why Goodie Nation will host a small group therapy session called All Founders Need Therapy where you can vent about (or listen to) entrepreneur-specific challenges.
Join Us on This Journey
At Goodie Nation, we believe that innovation is most powerful when it's inclusive. The "Future of Tech is Inclusive" program represents our unwavering commitment to creating a tech ecosystem that reflects the rich tapestry of our global community and leaves no one behind. Together with Amex Ventures, we invite you to join us on this journey to empower founders from all backgrounds in the tech industry.
Startups: Seed stage and pre-seed startups in either the Consumer Lifestyle, B2B, or Enterprise Capability spaces can apply now through January 5th, 2024 here.
Fintech Community Builder Fellowship: Have experience in the fintech space and want to work directly with these startups selected for this initiative? We're launching a 3 month fellowship. Learn more and apply here.
Coaches: We're looking for experts and Series A+ founders in the Consumer Lifestyle, B2B, and Enterprise spaces to volunteer and give these founders strategic and/or tactical advice. Sign up here.