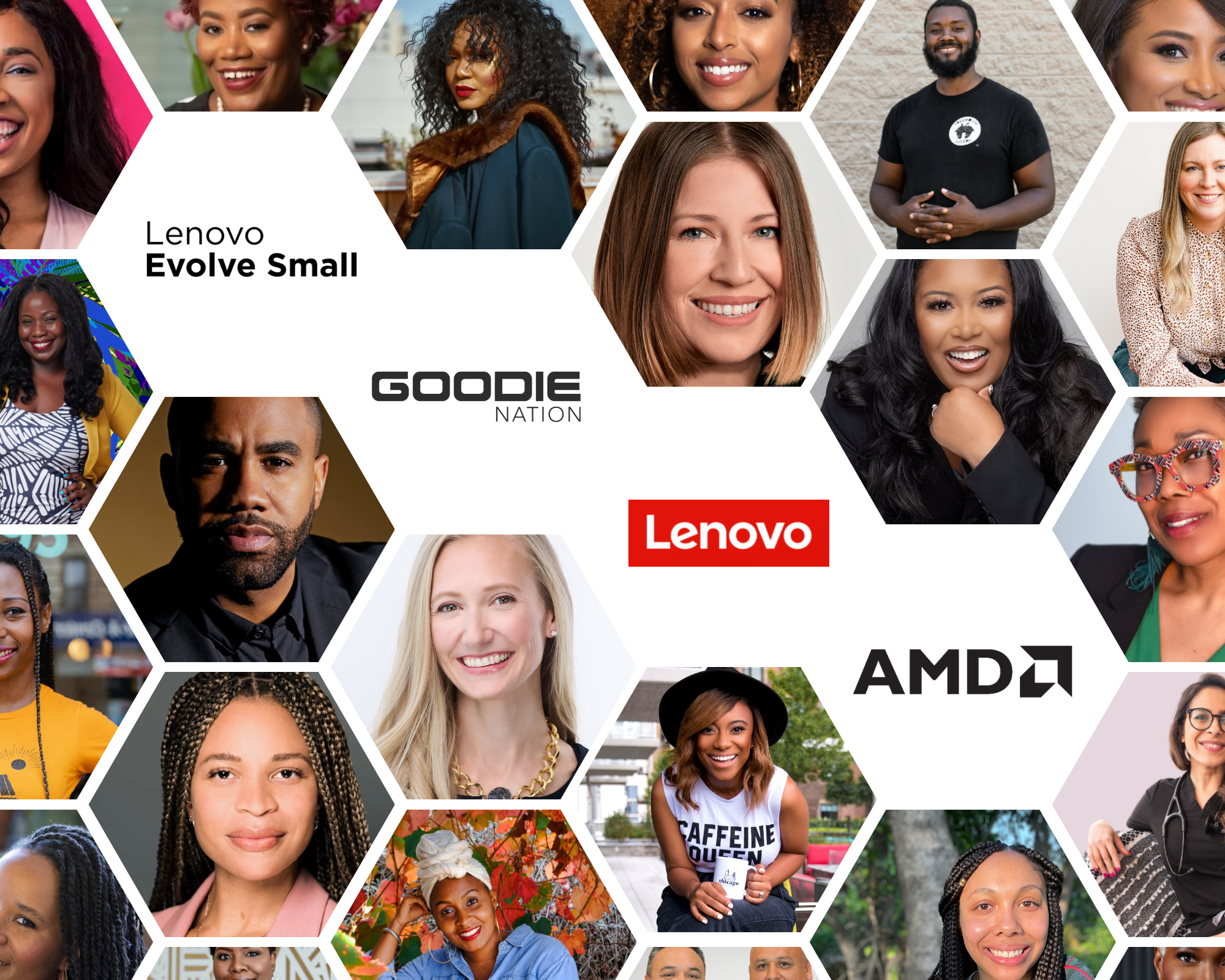 Meet the 2023 Lenovo Evolve Small Award Recipients
Today marks an inflection point for Goodie Nation as we welcome the 30 recipients of the 2023 Lenovo Evolve Small Grant into our Intentionally Good community. But these companies are not the tech startups we normally support, they represent some of the highest-potential diverse-led CPG brands and Brick-and-Mortar companies across the US and Canada. Each company receives $10,000 in non-dilutive capital, a Lenovo laptop, and business support. By expanding into supporting new entrepreneur categories, we are building a more robust founder community.
"We're proud to partner with Goodie Nation to support so many impressive minority-owned small businesses," said Gerald Youngblood, Chief Marketing Officer, Lenovo North America. "It's been inspiring to hear their stories and we look forward to following their growth beyond the Evolve Small initiative into the communities they serve."
"AMD is thrilled to partner with Lenovo and Goodie Nation to award these grants to so many deserving small businesses as part of Lenovo's Evolve Small initiative," said Scott Strong, AMD Americas Marketing Director. "We are excited to see the businesses thrive under Goodie Nation's mentorship and support."
These 30 small businesses represent 20 CPG brands; 10 brick-and-mortars; 20 cities and 17 states/territories across the US and Canada; and 50 Accelerators/incubators including McKinsey Next 1B Founders, Goldman Sachs 10,000 Small Business, Target Takeoff Beauty Accelerator, Sephora Accelerate, Ulta Beauty Accelerator, Tory Burch Fellowship, and Black Ambition.
Our original vision was always to support more than tech startup founders, and I believe putting them in the same group as CPG founders and Brick-and-Mortar owners is a massive opportunity. I'm excited to see a flywheel of impact take shape. This is the evolution of Goodie Nation's mission to close the Relationship Gap for all diverse founders and social entrepreneurs in the innovation economy.
This is tech, er, innovation done right.