Reflections at the Halfway Mark of Our Product Strategy Sprint Series Powered by Porsche Cars North America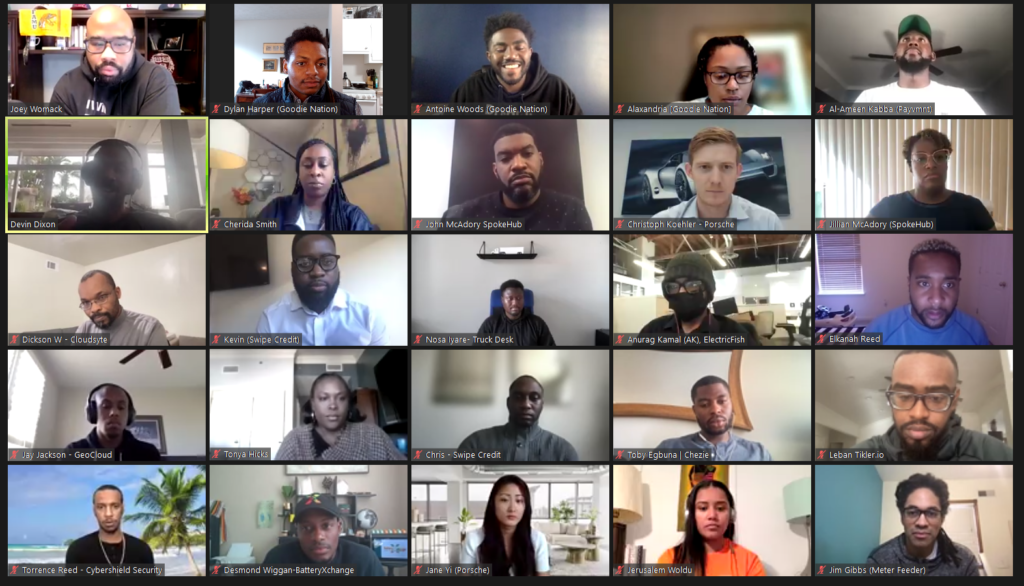 Last week, we had our midpoint check-in with founders participating in the Product Strategy Sprint Series powered by Porsche Cars North America, Inc. (PCNA).
This virtual luncheon brought together participating founders, Porsche Cars North America professionals, and Goodie Nation team members to share what everyone thought about the first half of the program.
Founders shared their gratitude for the program in its entirety: They appreciated strategy sessions and product audits with the Porsche team as well as the group accountability huddles facilitated by Goodie Nation.
Continue reading for a brief overview of the Product Strategy Sprint Series powered by PCNA and quotes from founders in the program.
Initiative Overview
Product Strategy Sprint Series powered by Porsche Cars North America is a 3-month virtual program where 20 founders seeking to enhance their existing products or develop new ones receive hours of guidance from PCNA product management professionals and related functional experts.
The participating founders experienced virtual networking lunches with PCNA professionals, office hours with its product experts, weekly accountability group huddles, and storytelling coaching.
Since this program was developed to give the next generation of diverse founders
and social entrepreneurs in leading industries a market advantage, the startup had to be in one of the following industries to qualify for consideration:
Customer Experience

Future of Work

Logistics & Mobility

Supply Chain & Manufacturing

Big Data, Analytics, & Security

Climate Tech & Sustainability
So far, this program has been a success in connecting founders with resources to help them enhance both their products and the value they provide. Here's what founders have said about the program.
Founder Testimonials
"The program has been phenomenal. The Porsche team got us to take a closer look at the data we're collecting and to think about how we can use it to create even more value for our customers!

It's also been great to work alongside like-minded founders in similar spaces. The other founders have helped me become a better leader and take my startup to the next level by sharing real world experiences and solutions they've had."

~ Desmond Wiggan Jr. | BatteryXchange
"My experience in this program has been amazing. The Porsche team gave me so many ideas about what we can be doing with our technology. They're connecting me with car repair instructors at Porsche to help me think of other ways I can use technology to train people in our program.

I love my 12pm huddle. Just having that check-in helps me reset. I want to thank the Goodie Nation team for allowing us to have the time to meet with each other."

~ Tonya Hicks | Women Do Everything
"The huddles have been a great way to start off my week! It's been really nice to work and problem solve with other founders. We're working on UX/UI with a member from the Porsche team."

~ Anurag Kamal | ElectricFish
"I really like the huddles! We've exchanged a lot of information there. We had a couple meetings with the Porsche team, and were very helpful in identifying the problem we're solving and the customers we're targeting. We've gotten a lot of advice on creating our go-to-market strategy."

~ Dickson Wambua | Cloudsyte
"The Porsche team helped me realize that I can apply my solution to different departments in a business. This will allow me to sell my app as more of a holistic solution."

~ Elkanah Reed | WORKOPTI

"The Porsche team helped us refine our product and create a strategy for streamlining our product roll-out. The huddles have been nice because it's so inspirational to watch some of the more established startups navigate challenges, solve problems, and scale."

~ Emmanuel Asamoah Botwe | Chaufo