How We Teamed Up with New Relic to Help Founders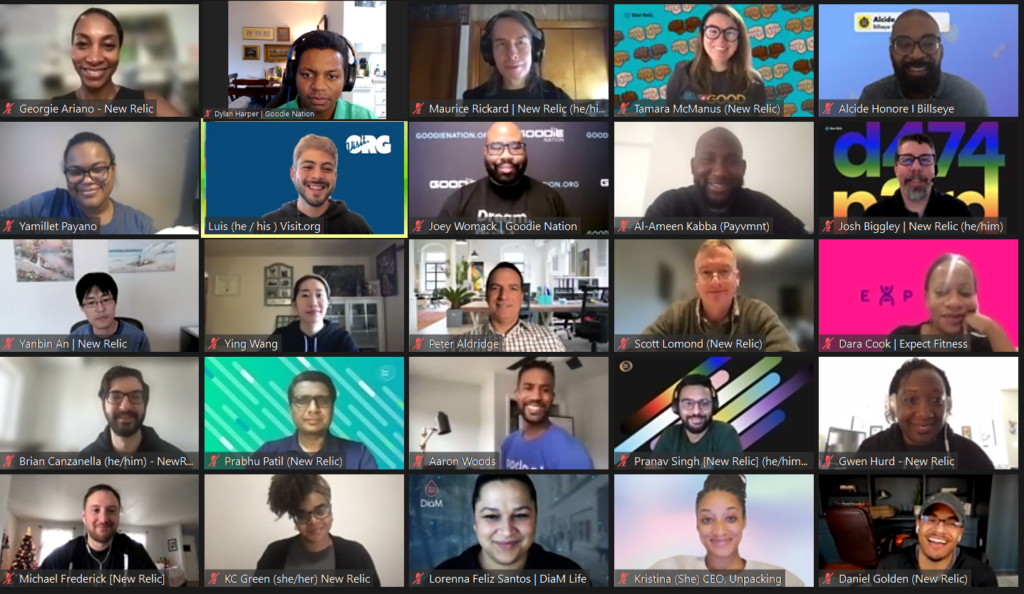 As part of our "Help a Founder" initiative, we brought together 27 professionals from New Relic and 9 founders from our community to build relationships, share origin stories, offer insights, and provide warm intros – ALL as an effort to help close the relationship gap for the participating founders.
Keep reading for more details about the event, the participants, and how to get involved with our "Help a Founder" initiative!
The Event
Our "Help a Founder" initiative is intended to connect founders with individuals from top companies and colleges, so they can cultivate the relationships they need to excel in the startup ecosystem.
This event was an exemplary expression of the initiative as it connected several founders with a ton of professionals from a notable software company.
We worked with Visit.org to find companies that were interested in engaging with founders in our community and to facilitate communications and event setup.
When New Relic expressed an eager interest to support the founders in our community, Visit.org set up the event, and we reached out to our community to get the founders who'd participate.
During the event, founders were placed into Zoom breakout rooms where they were matched with a handful of New Relic professionals to share origin stories, demo or pitch their startups, and ask for advice and intros.
Each founder participated in three 25-minute breakout sessions, interacting with 9-12 New Relic professionals in total.
The New Relic members represented a wide range of roles in the company including software engineers, software managers, customer success managers, product designers, marketers, and software sales representatives.
Given the diversity of expertise among the New Relic professionals, the depth and breadth of advice, insights, and intros provided was phenomenal.
The Results
In the Goodie Nation community, when someone asks for something, several hands go up eager to help, and this trend held true throughout our program with New Relic.
When founders asked for advice, connections, and resources; the New Relic hands went up – eager to help.
Here's a peek into the value that was created for the founders:
Intros to potential partners and customers were made.

Referrals to colleagues at New Relic were made.

Tips on how to close more B2B contracts were exchanged.

Go-to-Market strategies were reviewed and refined.

Expert advice about tech stacks was offered.

Guidance on aggregating user metrics was given.
Learn More
This event with New Relic was envisioned and executed all within a few months, and it provided priceless value to those who needed it the most – the founders.
If you or your organization is interested in partnering with Goodie Nation for the "Help a Founder" initiative, please don't hesitate to contact us.
With a combined effort between Visit.org, your organization, and Goodie Nation; we can put together a program in no time!
Click here to get in touch!
Participating Founders
Take a look at the founders who participated in the event and the businesses they're building!
About New Relic
New Relic is a publicly-traded technology company in San Francisco, CA that develops cloud-based software to help website and application owners track the performances of their services. With a team of almost 2,000 professionals, they help the world's best engineering teams visualize, analyze, and troubleshoot their software. Click here to learn more about New Relic.
About Visit.org
Visit.org provides a comprehensive solution for corporations to plan, execute and report on annual employee engagement programs that are aligned with their purpose and values, and are customized for their global workforce. Click here to learn more about Visit.org.