Relationships Matter for Diverse-Led Startups & Social Impact Startups: What We Learned By Spinning Up The Intentionally Good Project in 90 Days
On May 31st, we received notification that we won a VilCap Community license grant from Village Capital for their accelerator curriculum and data collection tools. On June 13th, Joey Womack presented on creating an "intentional" culture to support diverse changemakers at SOCAP's Spectrum conference. And on June 24th at 4:32pm, we received an email from Kapor Center saying that we were selected to be one of ten grantees from across the United States, and the only one in the Southeast, to receive a $100K Tech Done Right grant. This is the story of how we launched The Intentionally Good Project, a ground-breaking initiative, against impossible odds over the next 90 days.
The Problem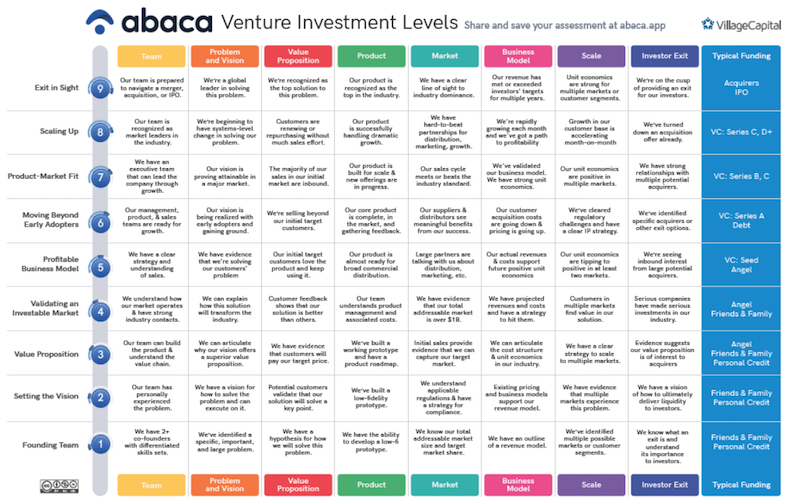 Research shows that startups that raise venture capital use 40% of the funds for acquiring users and/or customers. In Atlanta, we estimate that our diverse-led startups, defined here as either Black-led, Latinx-led, or women-led, and social impact startups with founders from all backgrounds, typically receive funding two (2) venture investment levels (VIRAL) lower than the level indicated by their progress. For example, while many of their counterparts are raising seed rounds, these startups are still being forced to use personal savings or credit cards. This makes it extremely difficult to get the product ready for broad commercial distribution, talk with large partners, and determine if revenues/costs support positive unit economics, much less see inbound interest from potential acquirers. In short, these startups never get close to reaching their potential.
In 2018, the Kapor Center published The Leaky Tech Pipeline report, a comprehensive framework for understanding and addressing the lack of diversity across the tech ecosystem. Among other things, the  report identifies how cumulative economic barriers and biases in entrepreneurship pathways affect the opportunities for diverse entrepreneurs to launch products and companies and invest in revenue-generating and social impact ventures. Chief among the barriers for the aforementioned Atlanta startups is low social capital caused by lack of access to high-powered social networks. Specifically, there is a huge disconnect between diverse-led startups/social impact startups and corporate employees, alumni of prestigious colleges and universities, and the entertainment industry. 
We believe that Atlanta has everything needed to solve this problem. However, the startup, corporate, nonprofit, and entertainment ecosystems are highly inefficient relative to helping diverse-led startups and social impact startups. The Intentionally Good Project solves this inefficiency by using a collective impact model that connects these startups to corporations/large companies for short pilots or strategic partnerships, macro and micro-influencers for endorsements or key advisors, and investors where it makes sense.  
The Intentionally Good Project is part culture and part program. Womack wrote about building an "intentional" culture in a July LinkedIn post. The design of the program is like a pipeline and divided into five (5) stages that begin every quarter: identifying the top startups in the area and selecting the top 10-12; assessing their readiness for corporations, influencers, and investors; pairing them with accountability mentors to improve their weakest areas over 90 days; introducing them to well-connected people; and starting meetings for pilots, endorsements, and investors. 
What Happened In Q3 2019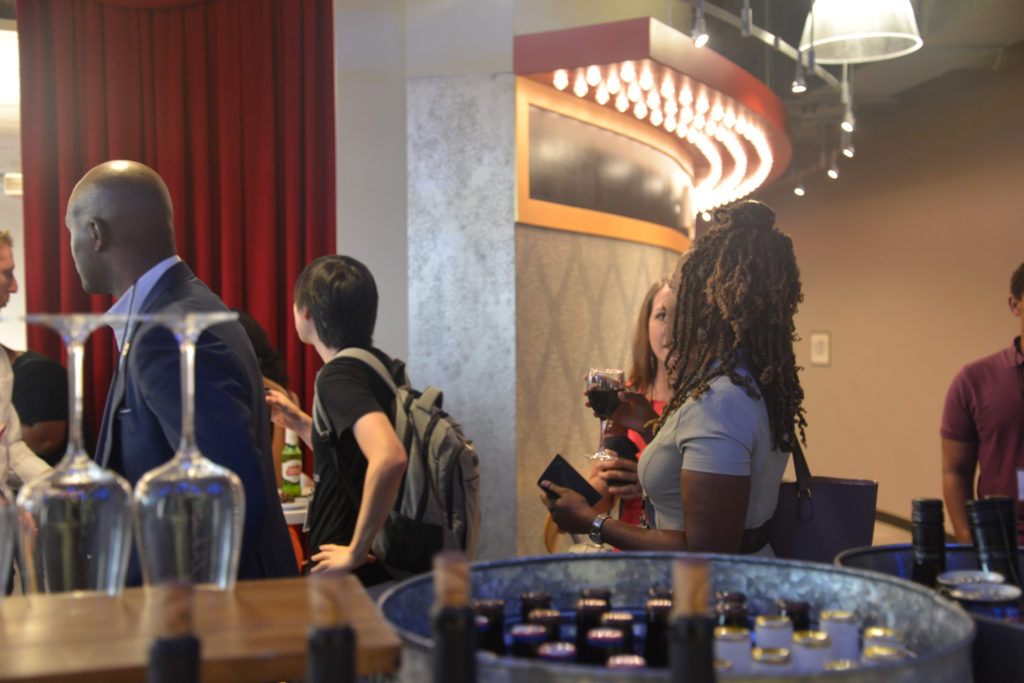 Well. Everything. 
In addition to actually building the parachute after we jumped out of the plane, we identified 150+ startups that fit our criteria and announced at a Georgia Social Impact Collaborative coffee meeting and the State of the Atlanta Black Tech Startup Ecosystem on August 7th that applications were open for the Fall 2019 cohort. Aided by articles from Hypepotamus and Urban Geekz along with sharing by 30+ people on social media and email, 125 startups applied. 
Five (5) startups were advanced to Stage 3: Capway, EnrichHER, Goodr, InterAct Lifeline, and Qoins. Twelve startups were selected for Stage 2: Aquagenuity, Citiri, Civic Dinners, Countalytics, Empowered, Hawque, Make Music Count, Partnr, Speakalytics, TenScores, Unboxt, and Uplift. 
We also partnered with Venture Atlanta for a dinner that led to eight (8) startups being selected as Showcase companies, and with Moxie for a FutureX lab where several startups secured meetings with Moxie executives as well as their clients. Nine of the applicants were selected for the Revolt Summit Code in Color Pitch Competition with musicbuk winning the competition. 26 of the applicants were selected for a recent Google For Startups Pop-Up where they received intensive mentorship from Google leaders. Startups in the cohort also secured meetings with Combs Enterprises, Porsche, Delta, Mercedes-Benz, and Lightspeed Venture Partners.
Assessments
Before we make warm introductions in earnest, we host a series of Investor, Corporate, and Influencer Readiness sessions where each startup is paired with an evaluator for a curated 90 minute 1-on-1 conversation using the VIRAL rubric as the framework.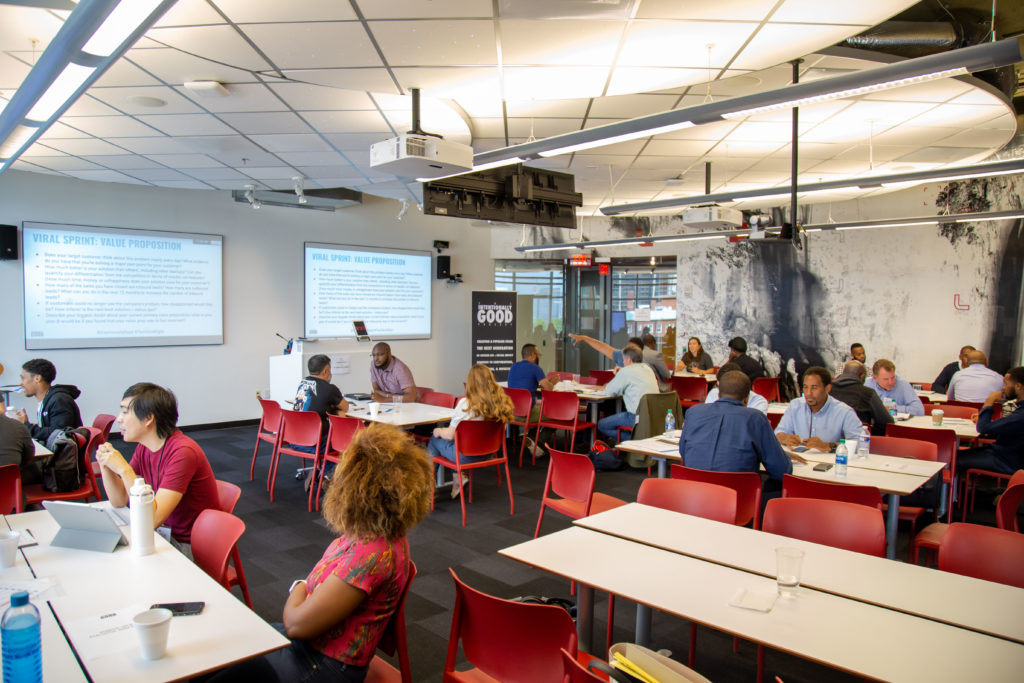 Google served as our host for the Investor Readiness Evaluation session where investors from Loeb.ATL, Shadow Ventures, Atlanta Tech Angels, and more grilled the startups  on everything from their team to their plans to scale as well as exit potential.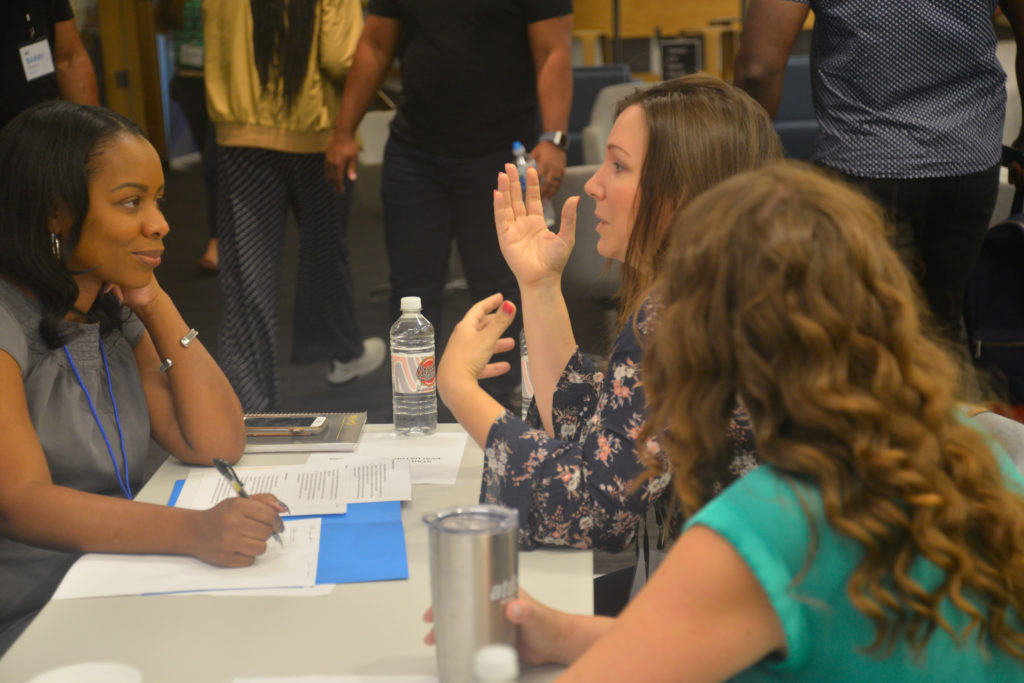 On Saturday, September 21st, corporate innovators from companies like The Home Depot, NCR, Deloitte, Nine Labs, Twilio, Proctor & Gamble Alumni, and Southern Co. came out to ATDC in Tech Square to determine other large companies' likely confidence in wanting to run a short-term pilot or create a strategic partnership with the startups.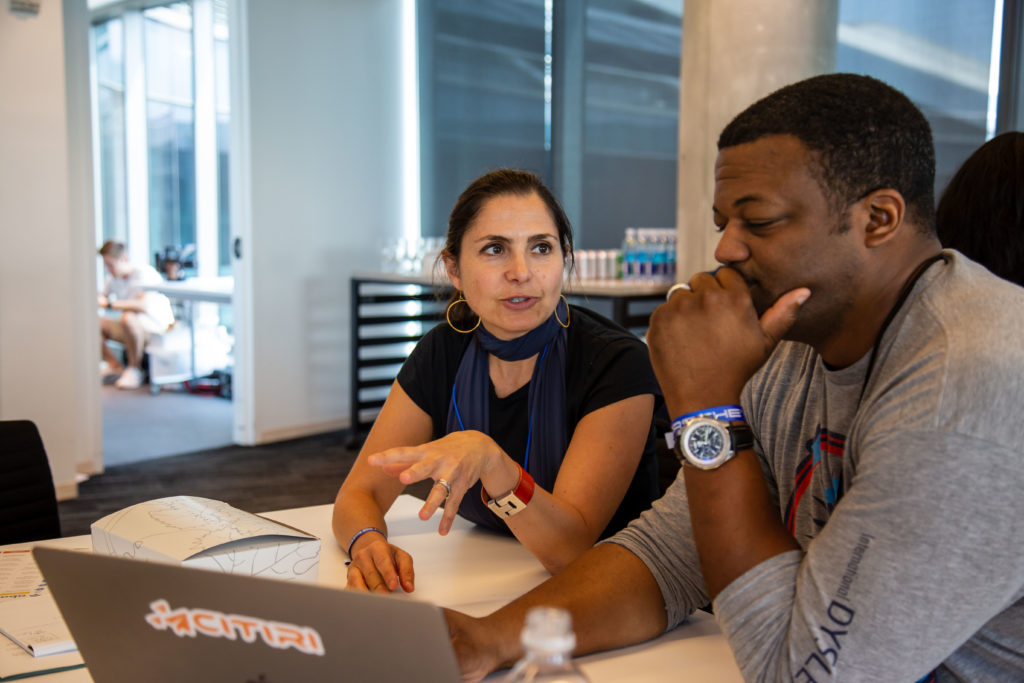 The Assessment Phase concluded with a trip to the Porsche Experience where local influencers (both corporate and consumer) with experience from the Atlanta Greek Picnic, SalesLoft, Sony Music, Beyond The Game Network, The Garner Circle PR, MailChimp, Target, and Emory University rated the startups on the likelihood that they will be able to attract other influencers to become key advisors or endorsers.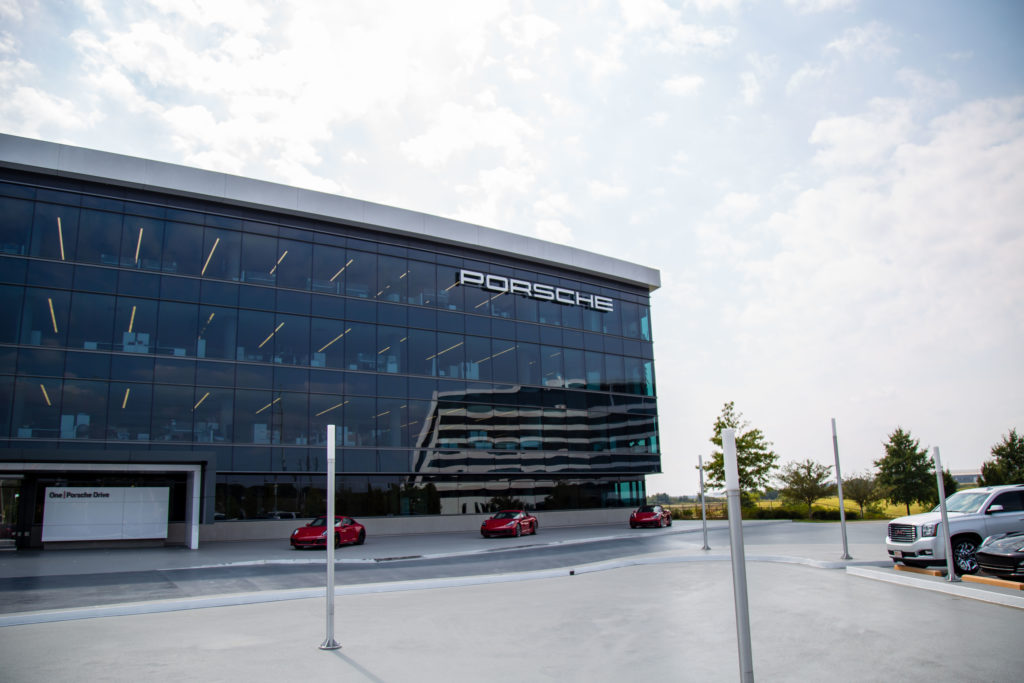 Our work bringing together the ecosystem is already paying dividends. Partnr, a startup that makes it easy for software development teams to track, sync, and get insight into their code quality and project productivity data in one place, has begun discussions for pilots with Delta and Porsche due to connections made in August and September. And this story is not uncommon Take Make Music Count which is working eliminate students math phobia by teaching them how to play popular songs on a piano-based app with direct math lessons. Evaluations revealed a need to improve the founder's understanding of the market and financials. The founder took the feedback and used it to win the $5,000 Black Founders Exchange Pitch Competition a week later. 
Sponsors + Partners
Special thanks to our sponsors The Gathering Spot, Google For Startups, ATDC, Porsche Experience, Venture Atlanta as well as ecosystem partners like Metro Atlanta Chamber of Commerce, Georgia Social Impact Collaborative, Moxie, UrbanGeekz, Hypepotamus, Engage, HBCU.vc, Atlanta Influences Everything, Propellant Media, Butter.ATL, KTC, SOCAP, Startup Atlanta, and Atlanta Black Tech.
What We Learned
As part of the Village Capital license grant, we're also included in the Global Accelerator Learning Initiative where our startup applicants and those selected for the cohort are compared to 20K+ startups from all over the world that have completed accelerators. Here's how Atlanta's diverse-led startups and social impact startups stack up:
Total Applications: 125
Self-Identified as Diverse-Led Startups (No Social Impact):

46

Self-Identified as Social Impact Startups:

81

Self-Identified as Diverse-Led and Social Impact:

68
Demographics
African/African-American Founder:

Applicants:

100

We Got Now inaugural Fall 2019 Cohort:

10

Latinx Founder:

Applicants:

7

We Got Now inaugural Fall 2019 Cohort:

0

Woman on Founding Team

Applicants:

54%

We Got Now Fall 2019 Cohort:

33%*

Global:

47%
*Note: Four (4) women-led startups that would have been in the Fall 2019 cohort were advanced to the next stage. Also, one other woman-led startup deferred to Winter 2020 due to startup-related travel commitments.
Strong-Potential* Applications: 56
Self-Identified as Diverse-Led:

25

Self-Identified as Social Impact:

8

Self-Identified as Diverse-Led and Social Impact:

23
Average Startup VIRAL Self-Assessment Score: 2.28
Average Startup VIRAL External Assessment Score: 2.24
VIRAL 3 Progress x Strong-Potential Applications: 29
Self-Identified as Diverse-Led Startups:

18

Self-Identified as Social Impact Startups:

4

Self-Identified as Diverse-Led and Social Impact:

7
Strongest VIRAL Business Areas: 
Self-Assessment:

Problem, Value Proposition, Product

External Evaluation:

Team, Problem and Product
Weakest VIRAL Business Areas: 
Self-Assessment:

Investor Exit, Scale, Market

External Evaluation:

Market, Scale, and Investor Exit
Business Areas With Largest Difference Between Startups Self-Assessment & Investor Evaluations
Team (-1.83)

Market (-1.67)

Value Proposition (-1.33)
Percentage of Applicants That Have Raised $ From: 
Angel Investors:

11%

Family & Friends:

11%

Accelerators/Fellowship Programs:

10%

Business Plan Competitions/Crowd-Funding Campaigns/Other Individuals:

7%

Philanthropic Support:

31.3%
Fall 2019 Cohort Customer Relationship Breakdown
Prior Experience Founding Company
Applicants: 67%
We Got Now Fall 2019 Cohort: 82%
Global: 50%
Been Through an Entrepreneur Support Program
Applicants: 50%
We Got Now Fall 2019 Cohort: 75%
Global: 30%
Have Patents
Applicants: 17%
We Got Now Fall 2019 Cohort: 17%
Global: 12%
Started In Previous 36 Months
Applicants: 70%
We Got Now Fall 2019 Cohort: 67%
Global: 36%
Amount of Money Founders Have Invested in the Startup (Median)
Applicants: $8,000
We Got Now Fall 2019 Cohort: $45,000
Global: $2,000
Desired Financing Over Next 12 Months (Median)
Applicants: $500K
Cohort: $750K
Desired Financing Over Next 3 Years (Median)
Applicants: $2.5M
Cohort: $3.5M
Trends and What We Are Observing 
Ecosystem building/connecting for diversity and social impact in the startup space is hot as evidenced by the work of the Georgia Social  Impact Collaborative, Kapor Center, Village Capital's VilCap Communities, TechStars Impact, The Gathering Spot, and the Russell Center for Innovation and Entrepreneurship.

Tech and the creative industries are on a collision course.

More diverse and social impact founders are accepting that they'll be forced to bootstrap as opposed to raising investment capital, and the goal is to become cashflow positive as soon as possible.

Building $1 billion companies is no longer the standard. Now, the focus is on getting to $1M in revenue, and then deciding to try to get anywhere from $10M – $30M in revenue.

Startups will travel to where the resources (entrepreneur support programs and capital) are located.

More startups than expected participated in Y Combinator Startup School.
Analysis
The time is

now

for this initiative.

Relationships matter. This all boils down to social networks.

The Atlanta Tech Startup Pipeline has leaks AND is backed up. May take a 1-2 years to flow smoothly.

Social capital is more expensive than financial capital until about $50,000 (estimate).

This framework also works for tech-enabled startups, e-commerce companies, and "main street" businesses.

More Atlanta startups have made progress along the VIRAL rubric than we originally thought.

The majority of social impact companies can't get past VIRAL 2 in Investor Exit because there's little-to-no evidence of their value proposition to acquirers.

Many black-led startups can't get past VIRAL 3 in Investor Exit because serious companies haven't made serious investments in their industries.

Some founders were not able to provide answers during the Evaluation Sessions and the evaluators challenged them to think about aspects of their business that they had not thought of before. The founders are being pushed and stretched to know every aspect of their business – not just the product.. 

Founders have been able to receive many points of feedback instead of just one-off conversations with mentors or advisors. These conversations also lead to relationship building, which is an added benefit of this program. It opens up the chance for the founder to make connections with other founders and advisors to aid in the growth of their company.

 

Fortune 1000 employees, many of whom are on the pathway to qualifying as accredited investors due to income, are engaged in this process. They see the evaluation sessions as a way to learn how to vet startups like seasoned angel investors and venture capitalists.

There is a disconnect between non-tech startup professional scene and tech startup scene – especially for African Americans.

There is a large opportunity to connect Atlanta startups, especially social impact startups, to non-Atlanta corporations, influencers, investors, and social networks.
What's Next in Q4
Now that each startup's three business areas to improve have been identified, the founders will begin working hard to make those areas strengths. We'll also host four workshops over October and November where the startups will assess and score each other, develop their origin stories, and learn about advanced topics like B2B Sales, designing a pilot with corporations, working with influencers, and more.
In December, we'll bring back all evaluators, sponsors, partners, mentors, and speakers for a dinner where the startups will present their progress since September. Also, we'll open applications for the Winter 2020 cohort.
What We Need
We're proud of how the ecosystem has responded and rallied, but there's a ton of work to do moving forward:
The startups will have specific needs, and will need to access the social networks of corporate employee resource groups, university alumni associations, and professional organizations. 

Angel investors, venture capitalists, corporate innovators, and influencers to serve as evaluators in January and February for the Winter 2020 cohort.

Donors and sponsors y'all. 
Conclusion
We're on to something big here. You can feel it in the air. This is tech done right.