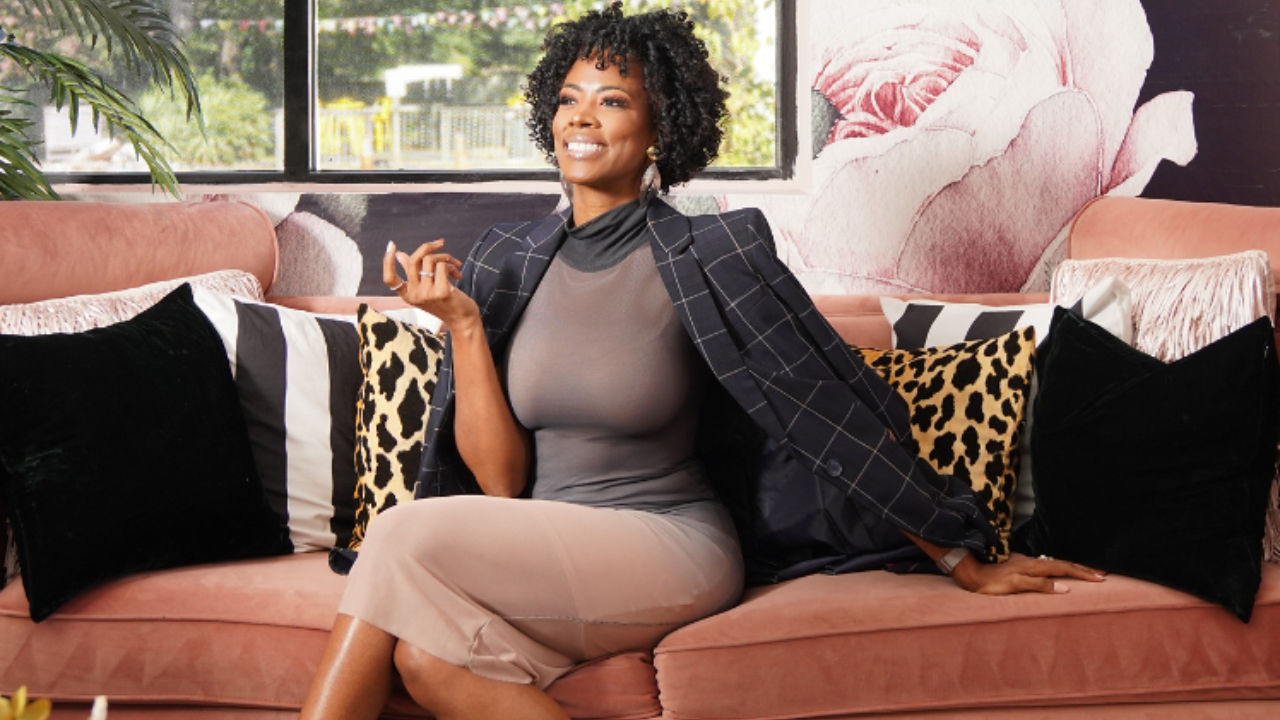 Founder Win | Scaling New Heights: Courtney Caldwell's Journey from Mountain Tops to Revolutionizing the Beauty Industry with ShearShare
Courtney Caldwell is a woman that climbs mountains. Literally.
Recently, she and her husband, Dr. Tye Caldwell, climbed Mount Kilimanjaro. And when asked if she'd do it again, she smiled and said, "Absolutely."
"Climbing Kilimanjaro was the hardest thing I've ever done physically. While climbing up the mountain, you have to talk to yourself and convince yourself that you're ready. That your legs are still there. That you can do this. That you're stronger than you think you are. And when I reached the top, I felt this enormous amount of peace that I have never felt anywhere else in my life. I'm so happy that my husband and I were able to experience that moment together."
Not only are Courtney and Tye life partners and climbing partners, but they're co-founders of ShearShare, a revolutionary tech platform that connects salon and barbershop owners with independent stylists looking for space to rent.
Caldwell said, "And just like Kilimanjaro, just like parenting and just like marriage, with ShearShare, we get to accomplish something meaningful together. And incredible. And hard. Throughout it all, there are so many moments that, even when it was difficult, we could laugh with each other and embrace the experience."
Born into a military family, Caldwell grew up adapting to different places and cultures every two years. "You kind of turn into a chameleon when it comes to learning different people, different cultures, different school environments, different neighborhoods, different communities," she explained. Caldwell went on to pursue marketing, earning her Honors degree from the Cox School of Business at Southern Methodist University and her Master's in marketing from the University of Texas at Dallas. She worked in B2B tech marketing for over two decades before starting ShearShare. Although she never sought out to be an entrepreneur, she felt her life and work experience primed her to become a co-founder and COO.
The inspiration for ShearShare came from an issue at the Caldwells' own salon. They had an empty space that they weren't used to having, and hairstylists began asking if they could work out of the Caldwells' location without signing a long-term contract. "This was around 2012 when the industry was starting to change. Things shifted from the majority of people in beauty and barbering no longer working as full-time employees and commission-based stylists and instead becoming small businesses of one," Caldwell explained.
The Caldwells recognized the need for flexible salon space, and ShearShare was born. The timing was perfect.
"We are trying to solve a major problem in the beauty industry where over 40% of salon and barbershop chairs sit empty each day and stylists need space to work," Caldwell stated. ShearShare allows licensed cosmetologists and barbers to rent salon space on-demand, without committing to long-term contracts or working by commission.
Caldwell's passion for ShearShare and the beauty industry is evident. "We want to help cosmetologists and barbers build successful, long-term small businesses," she said. "We want to empower them to take ownership of their careers and work where they want when they want."
Caldwell's experience and leadership have been critical to the success of ShearShare. "I'm a big believer in servant leadership," she said. "I'm not afraid to get my hands dirty and do whatever it takes to help our team and customers." She also emphasized the importance of strong relationships, saying, "I think people matter most. And so that's why we make sure that we're in communication with our community every day."
In her own words, Courtney shared, "The real core of ShearShare is about economic mobility. It's about social justice. It's about making space for unique talents and democratizing workspace for the second largest industry on the planet for independent contractors, which is beauty and barbering."
It's clear that Courtney Caldwell is not only an incredible leader but also someone who is deeply invested in social impact and creating positive change in the world. Her passion for ShearShare is palpable, and her desire to help those in the beauty and barbering industry succeed is inspiring.
When asked about the future of ShearShare, Caldwell said, "Beauty and barbering are our default. That's the industry that's fed our family for nearly three decades now. But you can easily see how other industries would benefit from technology like ours. Any industry where we can match underutilized capacity to people who need it could benefit from our tech." So, who knows? In the future, ShearShare could expand to other industries like fitness, dentistry, or any workforce that's mobile-based.
For now, though, ShearShare is focused on the beauty and barbering industry, and Caldwell and her team are obsessed with the user experience. "We're building it for a community that literally touches everyone. You know, there's no movie set, no wedding, no graduation, no special red-carpet event that doesn't get touched by somebody in our industry," she said.
ShearShare has already made a significant impact in the beauty industry, earning recognition from the likes of Forbes and Inc. and winning numerous awards, including Google For Startups's Demo Day, the L'Oréal Women in Digital NEXT Generation Award, and the Tech Co. Startup of the Year Award.
As a company, Caldwell said, "One of our biggest wins was being named a World-Changing App by Fast Company. It was a celebratory moment for us, and we were thrilled that our hard work and dedication to making a positive impact in the world was being recognized."
And ShearShare's impact doesn't just stop there.
Caldwell said, "We were recently invited to speak at the US Patent and Trademark Office's entrepreneurship and innovation summit in Baltimore. Tye is headed up there. It's an honor to represent our company and inspire others with our unique story."
What made the experience even more significant for Courtney and Tye was the realization that only 1.6% of patent holders in America are Black. Caldwell said, "We hold a design patent for our ShearShare app, and being able to share our journey and serve as a model of hope for others–especially during Black History Month–is incredibly important to us."
"We recently spoke to an elementary school class, and it was inspiring to see the students' eyes light up as we talked about games on their parents' phones, building something from scratch, and what they aspire to be when they grow up. We believe that by sharing our experiences and helping others see the bigger world of opportunity that is out there for them, we can make a real difference in people's lives."
But how does ShearShare overcome its challenges? According to Caldwell, it's all about taking it one step at a time. "The same way we made it to the summit of Mount Kilimanjaro is the same way we do anything else in life, and that is one step at a time," she said. "While climbing Kilimanjaro, our guides would say 'pole pole,' which in Swahili means 'slow, slow.' And while you're stepping and going pole pole, you're having to pay attention to everywhere you place your foot because this is mountainous terrain, right?"
"This is the largest mountain in Africa. And so you are climbing over rocks and gravel and sticks and walking through moorland and then snow and then scaling walls and so you have to be so focused on every step you take, but you can only focus on that next step that you're taking." That's how they keep moving ShearShare forward. Thoughtfully. Methodically.
But Courtney will be the first to tell you, it's a journey that's not suited for going alone. She has her husband and business partner, but it takes a village.
"Goodie Nation has played a significant role in our journey. We first heard of Goodie Nation and Joey Womack through the Google for Startups Accelerator for Black Founders, where we connected with Joey and the team. We were one of the first recipients of the Google for Startups Black Founders Fund award, which really helped us keep the doors open during COVID-19. Goodie Nation has been a valuable resource for us, providing a safe space for like-minded individuals who share similar experiences, and allowing us to connect with other founders who are going through the same life and business struggles as we are. If anything, it's a healthy reminder that we are not alone in our journey."
Caldwell continued, "One of the most important aspects of Goodie Nation is the community they have built. It's not just about taking but also about giving back to your peers. As founders, we have a responsibility to give back to the community, and that's something that Goodie Nation really understands. It's a high-vibrational community, and being a part of it has really made a difference for us. We've been able to make valuable connections, get timely advice, and have a support system that we can rely on. It's not always easy being an entrepreneur, but having a community like Goodie Nation has made a world of difference."
ShearShare is changing the game in the beauty and barbering industry, and the future for them looks very bright indeed. At the forefront of this groundbreaking venture is none other than Courtney Caldwell, whose leadership is helping to propel ShearShare to new heights.